The Real Housewives of Orange County Review: Counselor Vicki, At Your Service
Miranda Wicker at . Updated at .
Previously on The Real Housewives of Orange County... Shannon Beador snapped at her husband and made things HELLA UNCOMFORTABLE. So uncomfortable I just said "hella." 
The Real Housewives of Orange County Season 9 Episode 12 picks up with more drama for the Beadors. Drama which is balanced out beautifully by Heather Dubrow's new additions: puppies!!!
(And not the sweater puppies her husband's known for installing in the chest cavities of Hollywood socialites like his wife.) 
Let's see how it'll all shake out...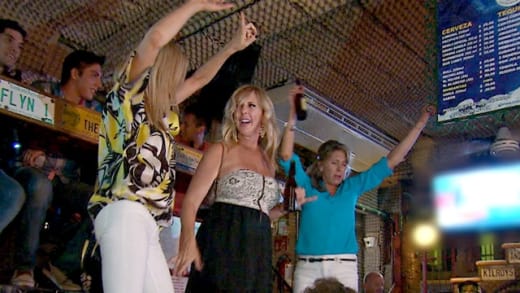 In Puerto Vallarta, Shannon is being driven crazy in her head by the discussions everyone else is having, but David doesn't worry about what anyone else says because he's living their marriage. 
Back at the table, Shannon apologizes for her behavior and says she's had an emotional week and needs to get snap out of it. Brooks says "what a place to get out of it!" Then he makes a toast and says "our past doesn't define our future."
Why does the man have to make sense sometimes?? Ugh. I hate myself for thinking he made sense. Minus 10.
The group heads off to Andale's to drink tequila, dance on the bar, and "whoop it up," Beador-fight or no fight. Shannon says she's not embarrassed by the fight they had. 
Shannon dances on the bar and David tells her to shake it. So she does. Awkwardly.
Tamra brings Astro the Robot Baby to Eddie at the gym and Tamra's thinking she's probably too old for a baby and the diapers and potty training. Plus 8.
Tamra tells Ryan they're having an anniversary party for CUT Fitness' 1-year opening and Ryan asks if they're going to replace the floors first. Eddie made a $30,000 mistake and Ryan's calling him on it. Plus 9.
Heather brings the kids to meet Terry for dinner and one of them chimes in "cocktail time!!" Nice!! Dinner with Collette is crazy. CRA-ZY.
I feel your pain, Heather! 
After the nanny takes the kids to get frozen yogurt, Heather tells Terry that she thinks it's time to get a dog. But she doesn't want to get a rescue dog because so many of them have allergies. What she wants to do is make a donation to a rescue group and get a pedigree dog.
When Terry calls that a "guilt relief gesture" (which is what it is) she clams up. 
Since Shannon and David are on a vacation, Vicki arranges a day for Shannon and David to spend time together. Plus 10. Vicki really wants to be a marriage counselor in her next life, and the truth is that she's not bad at it. She learned a lot from her breakup with Donn.
Vicki tells Shannon and David they're going to go on and have lunch together and Shannon thanks her halfheartedly. She wanted a nap. Minus 10.
Lizzie is trying to get Sun Kitten swimwear in stores. Her father fronted her $100,000 to start the business in 2010 and she's determined to make good on his investment.
She gets an audience in an Orange county swimwear store and really nails her presentation. Plus 10.
Shannon and David head on down the river to lunch. She says they're never better than when they're connected and having fun. 
She says she's been in a bit of a slump and she understands why he wouldn't want to spend time with her when she's snapping at her all the time.
They have a really, really serious conversation where David tells her that he wants to be happy with her and live a happy life. He doesn't think that she's happy with herself.
Newsflash: She isn't! 
He doesn't sound like he wants a divorce, but he's telling Shannon that he's killing himself to give her this life they live and all he gets is complaints from her.
Shannon Beador needs therapy. Not crystals, not acupuncture, not feng shui. Therapy. And David needs to go with her.
Tamra and Eddie returned Astro and make the phone call to the Robot Baby Central. Eddie says to the woman on the phone that he knows he doesn't want kids.
Tamra is pretty broken that Eddie doesn't want to have kids with her. And they didn't do very well taking care of the robot baby. In fact they were downright neglectful. Minus 8.
At least it was just a robot?
Back in Mexico, it's dinner time again. Brooks asks which couple is the favorite couple they've met and which couple is the least favorite couple.
David doesn't have a favorite couple, but he DOES have a least favorite couple: Tamra and Eddie.
Shannon isn't sure there's anything Tamra could say that could make Tamra's betrayal better. Brooks recounts the fight he had with Tamra and the fact that Tamra talked to Briana about Brooks. Brooks hates Tamra.
Vicki says she doesn't see herself ever getting back to the same level of trust with Tamra as she once had. 
Heather and Terry are getting two puppies and right now the kids are all excited about dogs joining the family. Plus 8.
They're not excited about the poop, though. (Who is?)
They get two hypoallergenic puppies, which look to be Golden Doodles, though perhaps Labradoodles, and which are positively downright ADORABLE. Plus 40. 
Tamra brings Vicki coffee and they chat about the Shannon-Heather-Email confrontation. Tamra's pretty upfront about her role in things, including the part where she lied to Shannon about how that information came from her. 
Vicki tells tells Tamra that the difference between Tamra telling Heather and Heather telling others is that Tamra gave Heather the information to try and help Shannon. But Tamra won't ask Heather about the incident to get her side of it.
Ugh. These women. Always talking to each other about everyone else but never going straight to the horse.
EPISODE TOTAL: 57 SEASON TOTAL: -377
What did you think about The Real Housewives of Orange County Season 9 Episode 12? Is Shannon right not to trust Tamra anymore?
Miranda Wicker is a Staff Writer for TV Fanatic. Follow her on Twitter.