Jamie appeared to be burning the candle at both ends in Reckless Season 1 Episode 5, as she was once again experiencing more than her fair share of heartache.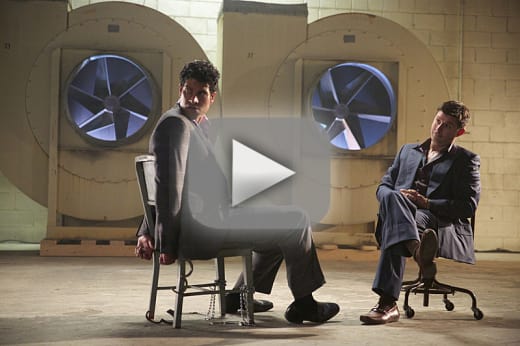 First, she woke up late for a legal conference because, let's face it, being humiliated in front of the guy you like while his new girlfriend stands there in nothing but his dress shirt is just exhausting. 
I absolutely loved how Dec noticed her plaid shirt and told her in this Reckless quote…
Jamie Sawyer, don't you look comfortable.

Dec
He said it with that Southern charm that got the insult across in the most polite way possible. And that was before we ever saw the denim skirt.
I couldn't believe that Max was Jamie's brother. I truly never saw that one coming and I still don't understand why she waited two years to tell him the truth. However I loved that we learned so much about Jamie's back story, and what a story it was. 
Having grown up with a mother addicted to heroin and being bounced around the foster care system makes how far she's come all the more impressive. But in the end, I wish we had found out what was in the note that Max left. Perhaps we'll get that answer next week. 
On a side note, I looked up the symbolism of the bloodstone. It is a healing stone that imparts strength and courage and symbolizes justice. It's interesting that even as a child Jamie would be drawn to it. 
Despite Roy's ongoing relationship with Nancy, he still made time to help Jamie with her brother's case, but that doesn't mean they're going to go easy on one another when it comes to Lee Anne's lawsuit. 
Roy: You know it's getting hard to keep switching hats with you.
Jamie: Well maybe one day we'll go hatless. Let our hair down. See how it feels.
Talk about a tease. Just tells me that they will remove their hats, and anything else they'd care to remove, before the end of the season.
Elsewhere in Charleston, Preston wasn't the only one abducted. Russ Waterman, water sports entrepreneur and gun runner needed to have some face time with Cruz and Terry to let them know how serious he was about getting his guns. 
The evidence room heist was a lot of fun to watch but I expected that bag of guns to be larger considering Waterman was paying 30 grand for it. 
Now that Preston knows who Waterman is and knows the other cops involved in this, isn't it time to make some arrests? How long will this undercover operation continue?
Terry's life was revealed to be even more complicated. This time we found out that he took in his cantankerous old man after he lost his pension with the Charleston PD. At least now we know where Terry gets his Reckless streak. 
I'm beginning to wonder if the Charleston PD has any honest people working for it as we met Betsy. Bless her heart, wasn't she sweet to offer Lee Anne a copy of the evidence…for $5,000. And why didn't Lee Anne tell Jamie or Arliss about it?  At least he might understand why she had to pawn her wedding ring. 
It seems as though nothing on Reckless is ever what it seems.
Tell us, TV Fanatics, should Jamie try and track down her brother?
C. Orlando is a TV Fanatic Staff Writer. Follow her on Twitter.