Pretty Little Liars Review: A(li)'s Back

Teresa Lopez at . Updated at .
And BOOM goes the dynamite!
I might actually have started believe I. Marlene King about the big changes this season, as Pretty Little Liars Season 5 Episode 5 packs so much drama into one hour of television.
There was so much going on, this recap can't even cover it. More importantly, all of it felt like necessary development of the changing characters and the show's eerie, slow-burning atmosphere.
For one, Hanna is still dealing with feeling like she's just Alison's puppet again. Changing her hair and shoplifting  (and apparently dating Travis) has given a little comfort that she can resist just being another brainless follower - but then Caleb shows up!
What was up with Caleb? Having not followed Ravenswood, I'm not sure what caused his personality shift. He was certainly looking rough and tortured. And he avoided Hanna, which made Hanna seek out her ex-boyfriend and lots of alcohol. Hanna's on a dark road here.
Spencer's mom returned to pull her out of school, so the two of them could make a clean getaway. Mr. Hastings and Melissa don't have an alibi for the night Mrs. DiLaurentis died and that makes Mrs. Hastings really scared... scared enough to divorce her husband.
Or is she trying hide her own involvement?
Aria's storyline (as I predicted in my review of Pretty Little Liars Season 5 Episode 4) has lead her back into Ezra's arms again. She continued torturing and blaming herself, even going so far as to have a heart-to-heart with Jenna. But it all added up to having crazy reunion sex with Ezra. I wonder if she'll get over Shana now.
Speaking of Jenna...
I thought after her little conversation with Aria that she was just genuinely hurt by Shana's death, but then why come back to Rosewood? Clearly, she's involved in A's new scheme and she might have even helped Shana in New York. Jenna and that new girl Sydney (see, new people are always trouble!) met up with Mona to discuss the next plan to separate the liars from Alison and get rid of the Queen Bee for good.
So, Jenna wants revenge and Mona's first plant to discredit Ali has worked so far, but is either of them A? 
Mona has been A in the past, and the new A lair does have a lot of dolls...Mona loved those dolls. But there was one other person at that meeting. Someone pulled up as Jenna, Mona and Sydney discussed strategy. Who was it?
I'm sure Jenna survived that big explosion at her house since she seems to be helping A, but how shocking would it be to get rid of a major suspect like that?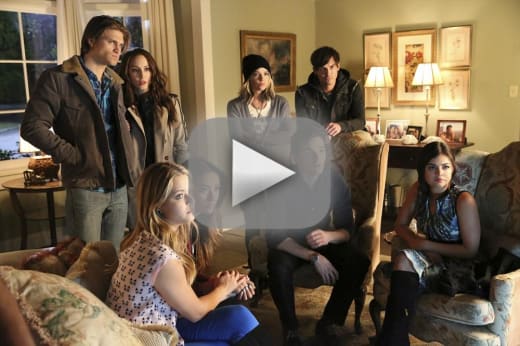 And the bigger question here is Alison. She's been spinning one web of lies after another, but why did she feel the need to lie about her confrontation with Mona? Ali fell right into Mona's trap because Mona knew Alison wouldn't be honest.
But even that doesn't disturb me as much as the way she's been manipulating Emily. After apologizing to Paige, she tells Emily that she did have feelings for her before her disappearance, planting the seed of interest in Emily's mind. Later, after asking Emily to keep her company when she's emotionally vulnerable, Emily can't resist becoming kissing friends again.
I have trouble believing any of this is genuine. Alison knows that Emily was her biggest advocate and Alison needs her back on her side. Or maybe there's more to it than that. Who was Alison talking to when Ezra and Aria ran into her?
Do you trust Alison?
Here is your first look at Pretty Little Liars Season 5 Episode 6: