The Real Housewives of New York City Review: Sonja Gets Sloshed

Christine Orlando at . Updated at .
Sonja got sloshed in Saratoga on The Real Housewives of New York City Season 6 Episode 13, while Aviva threw a party at the Museum of Sex.
We recap the filthy mouths and insensitive comments in this week's +/- review...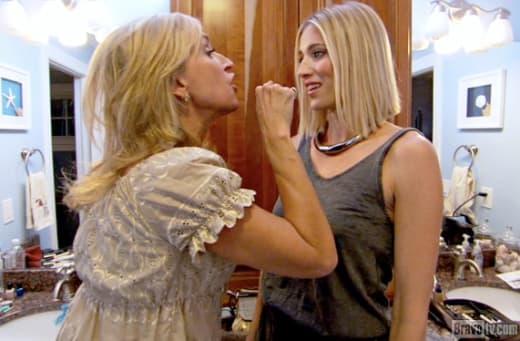 Sonja got completely hammered during the ladies trip to Saratoga and was quick to get in poor Kristen's face when she came to make nice. Minus 25.
But were the ladies to blame for Sonja's foul mood? They did, in fact, leave Sonja behind at the racetrack, even though they knew she'd had too much to drink?
LuAnn had sent Sonja a text message but I hope they'd send more than one or else that's definitely breaking the girl code. You never leave a drunk girl behind. Minus 42.
On the up side, the hats for race day were lovely. Plus 10.
Even with Sonja sloppy drunk, Saratoga was still far more civilized than what was happening back in Manhattan. 
Aviva threw her father an engagement party at The Museum of Sex. Plus 17 because for George it seemed completely appropriate. 
Earlier George's 24-year-old fiancee, Cody told Aviva that she's freezing George's sperm to have his children later. Talk about TMI.
I find it hard to believe that someone wants to procreate with this dirty old man who regularly feels up women he's just met in public places. Minus 50. If he tried that crap on some of The Real Housewives of New Jersey he might get his fingers broken. 
Of course where George is filthy and classless, Ramona is downright rude. Who goes up to a woman they've just met at a party and asks if her parents are dead? Minus 22.
But if George was so upset by what Ramona said, why wasn't he checking to make sure his fiancee was all right instead of calling Ramona nasty names. Minus 12. 
When Ramona runs into George later on, she's reminded of how close in age Cody is to her daughter Avery and tells George, "God forbid she has some lecherous man like you after her."  
It may have been rude but I can't say I disagree. Plus 27.
Things quickly spiraled out of control from there. As rude as Ramona can be, I do believe she's equally rude to everyone. I don't believe that George's comments about being racist were warranted. I think it was just an easy shot to take. 
Honestly, every time I see George's smarmy face, I'm tempted to change the channel. 
Episode total = -97! Season total = -395!
What do you think of Aviva's father, George?
C. Orlando is a TV Fanatic Staff Writer. Follow her on Twitter.