CBS pushes the envelope with its sultry legal drama Reckless - and if you tuned in to Reckless Season 1 Episode 1 expecting the same old staid law procedural, you were in for a shock.
To start off, Shawn Hatosy of Southland fame shed his stand up cop image to take on the role of Det. Terry McCandless. When Lee Anne looked up at him with those big blue eyes during that traffic stop, I thought the story was jumping right in to the police corruption story.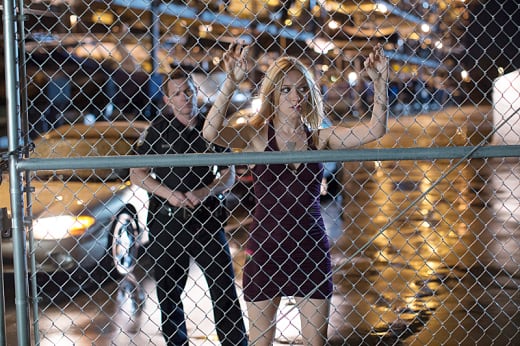 But it turns out to be a whole lot more complicated than that. Lee Anne and Terry have a relationship that pushes the boundaries for romance and network TV. One where role play and sex while being handcuffed up against a fence are the norm. 
As with everything, it's all good, semi-clean fun until someone gets hurt and Lee Anne doesn't take it well when the sexy selfies she sends Terry get passed around the precinct. Scantily clad selfies - never a good idea.
It's when Lee Anne goes to break things off that things really get dirty.
As much as I loved Shawn on Southland, Terry is a lot more fun in all the wrong ways. He's the possessive bad boy but I've heard he'll be far from a one-note villain and I look forward to finding out what drives this guy to be such a smug, arrogant, jerk. 
His ex-love Lee Anne runs the gamut from sexy temptress to hurt girlfriend to girl-done-wrong. Was she really drugged during that video? She's got enough of a bad girl streak to make you wonder even when you want to believe her. 
Either way, if she were fired for it, so should everyone else involved on that tape. But the good ole boys network appears to be alive and well in Charleston.
The setting is one of the things that keeps this show unique. It was filmed entirely on location and it shows. From the old Southern architecture to the beautiful waterways, Charleston, South Carolina is like it's own character on Reckless.
Even though Terry and Lee Anne are a show unto themselves, it's hard to believe they are actually the side players to the main attraction. 
Feisty defense attorney Jamie Sawyer agrees to take on Lee Anne's case and no one can say the girl isn't up for the job. I don't think I would have taken the intimidation tactics brought on by several of Charelston's supposed finest with near the calm and grace that Jamie managed. 
Of course it helps to know you've got a boyfriend in the department to help out. 
The relationship between Jamie and Det. Preston Cruz is still a bit vague. Is he really her boyfriend or more of a standard booty call? I got the impression that he's more into the relationship than she is…at first. 
The chemistry between Jamie and city attorney Roy Raydor was enough to melt the screen and the two barely touched during the episode. Their banter alone was enough to throw sparks. 
I liked Roy's quiet approach to things. He's a man who thinks before he acts but he's got a lot on his plate. A divorce, trying to make things right for his two little girls, a new job as city attorney and now the possibility of police corruption that could rock the city and involves his friends. 
Roy appears to truly be one of the good guys but what will he do now that the unedited version of that video has fallen into his lap.
I'll admit, seeing Preston Cruz in the middle of it all was a twist I never saw coming. It looks like there are lots of hot guys in Charleston but very few good men. Will Roy continue to be one of them? I can't wait to tune in next week to find out.
Now it's your turn, TV Fanatics. Will you tune in next week for more Reckless?
C. Orlando is a TV Fanatic Staff Writer. Follow her on Twitter.