Grab a flashlight and settle in by the campfire, TV Fanatics.
The Vampire Diaries Season 5 Episode 20 told a ghost story.
But was it a scary one? Did it do an enviable job of building momentum toward The Vampire Diaries Season 5 finale? And should Caroline and Stefan happen or what?!?
Join Leigh Raines of TV Fanatic and Crissy Calhoun and Heather Vees of Vampire-Diaries.net now as they rundown "What Lies Beneath" in the latest edition of our weekly Round Table...
What was your favorite scene or quote from the episode?
Heather: I'm not entirely sure I have one, though I will say the awkwardness that ensues after Caroline adds "today" to her "I've never kissed a Salvatore" drinking game turn was pretty hilarious. You know, everyone shooting confused/knowing looks at each other. Oh, and I did like Tyler wolfing out, though the chest slurping was a little...eh?
Crissy: "Avoid the entire Czech language" was a goodie. Damon was sassy in this episode, and that's always entertaining.
Leigh: Did anyone catch Damon refer to Elena as "our ex girlfriend." It was small but he was sassy in this episode. Fave scene: opening scene with Tyler escaping. 
Dumber move: Going to a cabin in the woods while being hunted, taking a bath in that cabin or playing Never Have I Ever with two ex-boyfriends?
Heather: Of those choices, I have to say the bubble bath was the most inexplicable.
Crissy: Too many dumb moves in this episode for me to choose just one
Leigh: Never Have I Ever with two ex boyfriends, one of whom is still in love with you.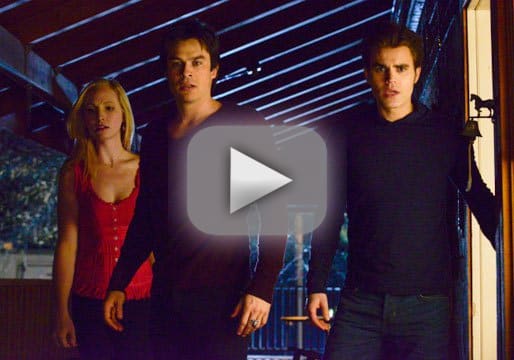 Do you want Enzo brought back to life?
Heather: Yes, though now I'm just irritated that he died in the first place because WHAT WAS THE POINT? If this episode was meant to be Big Bad Enzo Big Revenge Plan That Is Big, it was the most pointless, ridiculous "revenge" I have ever seen. Ooooh, I'm so mad, let's set things on fire. I don't get it. So I feel like Enzo killing himself via Stefan's hand was really just a cruel trick to make me upset. (I am taking this very personally, as you can see.) But yes, YES, of course I want Enzo brought back to life. He's the best thing that's happened to this show since the Originals arrived.
Crissy: I'm with Heather. I love Enzo, but this episode kinda dampened my enthusiasm on the Enzo front (and on the Stefan-Caroline front). So at the moment, in my grumpy morning after state, I sort of don't care what happens so long as it is compelling TV that makes sense.
Leigh: No. The inability for people to stay dead on this show is annoying.
Which are you more anxious to see: Bonnie dead; Staroline; or Tyler shirtless?
Heather: I'm always down for shirtless Tyler. I don't want Bonnie dead. And, after last night, I'm not sure how I feel about a potential Caroline and Stefan romantic relationship. If you had asked me before, I would have been intrigued, but something about the hinting last night rubbed me the wrong way. 
Crissy: I don't want Bonnie dead, but I do want major shakeup, and that might mean Bonnie dies (again) (but stays dead) (for real).
Leigh: I really enjoy me some shirtless Tyler, mmhmm.
What is your favorite drinking game?
Heather: The one where it's poured into the glass and then you have to somehow maneuver the glass to your open mouth. Sometimes it's trickier than it sounds!
Crissy: On a TV show: Never Have I Ever. That was one wonderfully awkward part of this episode. IRL? I'm with Heather on the basics.
Leigh: I like a little old fashioned college style Beirut.