The Vampire Diaries Review: Truth or Scare
Matt Richenthal at . Updated at .
Never have I ever been impressed by an episode of The Vampire Diaries Season 5.
Darn. I need to drink.
In actuality, The Vampire Diaries Season 5 Episode 20 wasn't a terrible installment; storylines have been dragging for awhile and the show can't be rescued in a single hour.
This outing did a solid job furthering Caroline's obvious crush on Stefan; evolving Damon as someone worthy of being loved; and scaring the crap out of anyone who enjoys a good ghost story.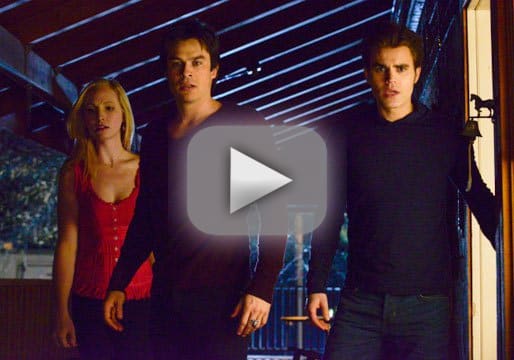 But the stakes continue to feel miniscule when compared to past seasons, especially as we inch closer to the finale (seriously, only TWO episodes remain).
Yes, the Travelers want to eliminate all magic and take over Mystic Falls and, yes, that's a mighty big problem for our heroes and heroines.
But the show continues to spend so much time on Delena's never-ending dance that everything else is pushed to the background.
How many times can these two share heartfelt moments? How many times can Damon open himself up to Elena without anything being accomplished? The relationship is spinning its wheels and - please, tell me if I'm mistaken - but even the most loyal Delena shippers must be losing interest at this point.
The overriding plot point heading into "What Lies Beneath" was that Stefan wanted to keep his killing of Enzo a secret. There were two problems with this line of thinking, however:
Stefan didn't kill Enzo. Enzo killed himself.
Stefan wanted to keep his role in Enzo's death quiet because he was afraid Damon would hate him.
That second point is very sweet and all... but this is The Vampire Diaries. It sky-rocketed in popularity due to crazy cliffhangers and jaw-dropping twists and one shocker after another.
And now, in its Season 5 stretch run, the drama is hanging storylines on Stefan worrying about the bond between brothers. Life and death circumstances, these are not.
Meanwhile, about those Travelers. Or, as they should be called, those TravelerZZZZZZ: they are boring. Like, really, really, really boring
Producer Caroline Dries told us at PaleyFest that she purposely slow-played the Travelers' storyline so that too much wasn't taking place at once over the first half of the season. But the move appears to be backfiring.
On its own, the threat of taking over Mystic Falls forever is a scary one. But we learned in elementary school that it's best to show and not tell; the series has basically told us the Travelers are bad and we should be afraid of them... but it hasn't really given us any reason to be.
A series such as TVD needs a strong villain - and Markos is a complete snooze. He has no personality. He hasn't done anything remotely frightening. He's simply existing in the show's universe and saying he wants his people to have a home.
I know not all bad guys can be Klaus Mikaelson, but look what happens when you have no investment in the Big Bad: far too much time is spent on the relationships of the main three characters.
It's just back and forth among Damon and Elena; and Elena and Stefan; and Damon and Stefan. We've seen every iteration of this trio over the years. There's nothing else to mine here.
We need an engaging outside presence or some kind of cast shake-up or just... something to change here.
Enzo has been that different, interesting presence for a few weeks now - yet the series now has him in some unexplained ghost state that's more confounding than terrifying. Typically, I disdain bringing characters back from the dead because it removes any kind of dire consequences from ongoing storylines.
But The Vampire Diaries needs Enzo on Season 6.
What did everyone else think? Are you excited to see Elena once again in peril? Are you rooting for Stelena? And which is dumber: going to a secluded cabin when you are being hunted... taking a bath inside that cabin... or playing Never Have I Ever with two ex-boyfriends?
Sound off and check out the official trailer for The Vampire Diaries Season 5 Episode 21, "Promised Land."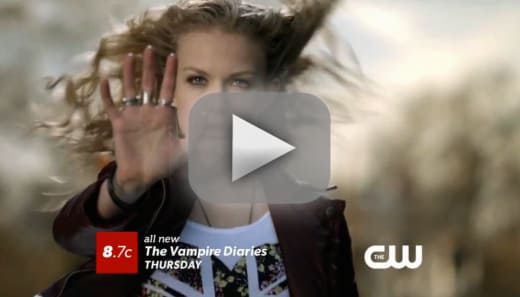 Matt Richenthal is the Editor in Chief of TV Fanatic. Follow him on Twitter and on Google+.