The Real Housewives of New York City Review: Not Ready To Make Nice

Christine Orlando at . Updated at .
Be careful of "The Ramona Trap" on The Real Housewives of New York City Season 6 Episode 11, as the exits were blocked so Ramona couldn't make her escape.
We recap it all in our +/- review...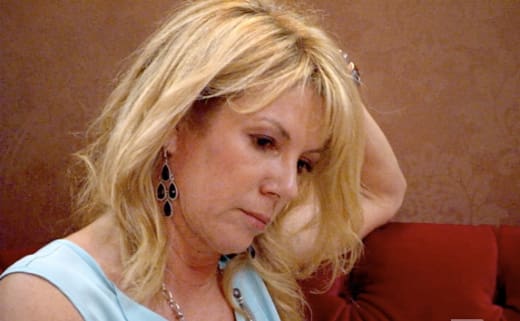 After a night of partying and Ramona bashing, the ladies woke up for some hung over yoga. Minus 23. From the look of them, perhaps they all should have slept in. Downward facing dog indeed.
Back in the city, Carole calls LuAnn for some advice. She's writing an article on manners for Town & Country magazine. Now doesn't that sound scintillating. Minus 10. Worse yet, she's got about two sentences written so she needs help from the Countess of Etiquette. 
Then LuAnn gets the brilliant idea to set up Carole and go out on a double date. It actually sounds harmless enough until you put Carole in front of a guy. 
As Luann said, "For someone who wrote the book, The Widow's Guide to Sex and Dating, you'd think she'd be better than this." I couldn't agree more. Does her book suggest discussing faking orgasms on a first date or the second? Minus 27.
LuAnn had her hands full elsewhere as well as the ladies decided to stage a Ramona intervention. 
Plus 40 to LuAnn who decided to strategically block Ramona's only escape route. "I'm like a linebacker from the 49ers. There was no way she was getting up." Very funny.
Even good friend Sonja wasn't buying Ramona's excuses.  "She gets over that post-traumatic stress rather quickly." Quick enough to catch a flight and be at the next party with perfect hair.
Of course Sonja has her own problems. Apparently her business associates and party guests frequently steal the stemware. Minus 12. 
Kristen bailed on the intervention with Ramona to deal with issues at home.
Am I the only one that thinks that Josh is a jerk? Minus 33. The guy can't get through 30 minutes of therapy for his daughter without his phone in his hand. Apparently those emails are much more urgent than his daughter being able to walk.
Josh insisted that Kristen needed to be more supportive by having meals on the table when he gets home. I hope Josh's business thrives because he's going to need it to pay off his future alimony and child support bills. 
Later, Ramona asked Kristen to meet her at a tea house but Kristen was a little apprehensive. I couldn't really blame her. "I'm a little nervous because the tea's hot and that burns."
I have to say that Ramona's apology sounded completely sincere and the yellow roses were a nice touch. Plus 45. 
Unfortunately, Kristen wasn't quite so gracious. She needs to know when it's time to let it go and that time is now.
Episode total = +13! Season total = -208!
What do you think, TV Fanatics, should Kristen have forgiven Ramona?
C. Orlando is a TV Fanatic Staff Writer. Follow her on Twitter.