Neither overwhelmingly great nor underwhelming and weak, New Girl Season 3 Episode 23 was simply whelming:
A perfectly so-so, enjoyable-enough cap to a wildly uneven year.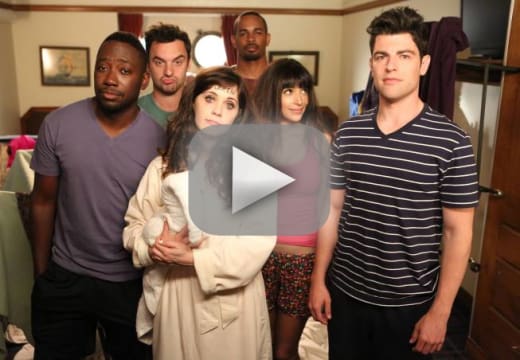 Where will the Loft Gang be heading next? Their futures, both individually and as a unit, seem shaky at best - unlike most season finales, this one didn't give any hints at the challenges that await the show's characters next season (unless they all become internet celebrities based on their cruise lock-in).
Rather than providing any sense of closure for the season, this half hour seemed to simply be heaving a sigh of relief for the show, and its exhausted plot, like a child on the last day of school.
Lacking any clear directives for the season ahead, the real purpose of the New Girl Season 3 finale seems to be to set up the still-remaining sexual and romantic tension between Nick and Jess - tension that flopped all over the place in this last quarter- season.
The drunken kiss on the cruise, even as it was followed by the gang's awkward plan for making things between the two less awkward, leaves the door open for ongoing steps towards a reunion.
So, yes...a show that I had originally praised for not Ross-and-Racheli-ing us, and simply letting the show's primary couple be happy together, is now Ross-and-Rachel-ing us.
Can you actually maintain a long-running romantic comedy sitcom about a kooky young couple who are simply in love? We'll have to find out from some other show (don't say Dharma and Greg, guys).
But still, Nick and Jess's fate is more encouraging than Schmidt and Cece's.
At this time a year ago, Cece was calling off her wedding for Schmidt, and now he's maturely backing off because he thinks she might have a real future with her 20-year-old Australian paramour?
That's not only inconsistent with the established character behavior of these two, it's simply boring to watch.
I've long thought that Schmidt and Cece - a more realistic couple than Nick and Jess ever were, one beset by numerous, possibly endless ACTUAL problems - are the most interesting couple in the New Girl-iverse.
And given the lack of focus given to the relationship this season, I do have to wonder if this is the end of the line for this messy, immature, and very realistic twosome.
Which would seem to point to the show's own Jess-like aversion to real conflict, and fixation on emotional tidiness.
Schmidt and Cece are a sloppy, disturbed emotional mess, the kind of mess that usually makes for the most compelling TV-watching.
But this season, there was no room for them, or their kind of sloppiness, on New Girl.
The show's emotional landscape is as crisp as one of Jess's outfits, with no room for the slouchy, wrinkly parts of relationships that make for the best comedy.
Will New Girl Season 4 restore the show to its former glory? Will next season's crop of New Girl quotes reach more consistent heights? Will the gang be forced to open up a diner together and/ or join forces to solve mysteries? Will Jess finally let one of her dresses get one, teeny, tiny wrinkle in it?
Folks, I've been watching this show long enough to say that the only thing I know about the future of New Girl, is that I have no idea about the future of New Girl.
(Except it's definitely a "no" on the wrinkle thing.)
How would you grade New Girl Season 3?