Running into your ex when you break up? Ewww... the worst.
Well, unless you look like Blake Lively. That might cushion the blow a little bit.
We were lead to believe that Gossip Girl Season 2 Episode 4 was all about dealing with that awkward ex run in situation, but really it was about Chuck Bass and his incredible ability to manipulate the situations around him.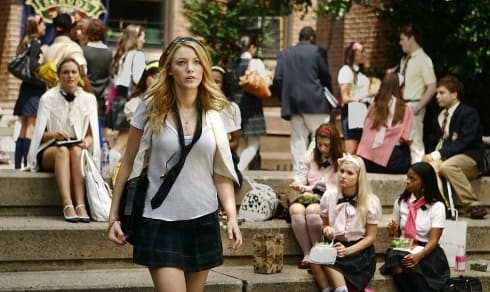 Senior year had begun and after the elevator break up in Gossip Girl Season 2 Episode 3, Serena was dreading running into Dan. She was even willing to hear about Lily's honeymoon with Bart Bass to avoid going to school.
Dan was nervous too and then he met a new student named Amanda who was just as into writers and books as he was. How interesting and coincidental that they would meet on her first day. Or was it?
This girl is Dan with boobs.

Blair
Let's just all admit that the amount of effort Chuck put into dethroning Blair and re-crowning Serena was pathetic but it was equally f**king BRILLIANT.
Hire a girl to pursue Serena's ex, get Serena to assert her sexiness and social power in order to defend herself. Boost Serena's ego to push her back on top while Blair is mysteriously MIA.
Oh Blair, that whole Katherine/Marcus debacle was awful. There have been several times in the course of the series where I wanted to strangle Vanessa and this was one of them. You can't just assume you know what conversation a person is having just by watching it through the window.
Blair knows how to handle shit and Vanessa jumped the gun and ended up screwing Nate in the end. Boo Hoo. Let's just bid that creepy incestual family adieu! 
Google revenge and you get BlairWaldorf.com.

Dan
Dan may not have liked Blair at that point, but he knew what he was talking about. The whole scene at the end when Dan was being pointedly ignored by everyone and Serena strolled into school with the posse behind her was classic.
I remember people say that the slow-mo clique walk reminded them of the movie The Craft. To be fair, the slow-mo clique walk is like a patented popular girl move in all teen movies.
So Serena took back the thrown. How do you feel about that? I think I'll just leave this Chuck Bass quote as my closing remark:
You're about to see the real Serena.

Chuck
Remember to go back and watch Gossip Girl online at any time via TV Fanatic.