It's a special night on American Idol. Not only will the Top 3 take the stage tonight for the last time before next week' finale, it's also the 500th episode of this iconic series. 
500 episodes! That's kind of nuts to think about. With three performances from each contestant, we have no time to waste! 
Let's get to tonight's performance recaps...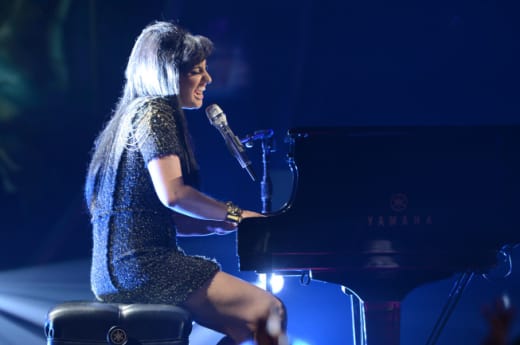 Round One will be Randy Jackson's choice That is, whenever the contestants actually get around to singing. So far we're 13 minutes into the show and we've got ZERO songs. And no, "Let Me Take a Selfie" doesn't count. It might get radio play, but that doesn't make it worth listening to.
Oh look! A commercial break before we even get a single contestant performance! YAY! (Yes, I'm frustrated. Yes. I'm telling you guys about it. Actual review-type stuff to commence whenever we actually get a performance to critique.)
FINALLY, Round One: Randy's Choice. Here goes.
For Caleb Johnson, Randy chose "Never Tear Us Apart" by INXS. (Not something by a current artist, no. Of course not.) Caleb is suffering from bronchitis and a vocal chord hemorrhage, which the Idol doctor says is "like a bruise." (That'd be contusion, Doc.) Caleb is obviously struggling, though, and it's clear. The performance lacks his usual energy and vocal strength. He's off-key and it's just not as good as it usually is. 
Keith says he did a good job and gives Randy credit for the song choice and then goes on to talk about how Caleb auditioned 7 times before making it this far. Jennifer says that Caleb on his worst night is better than some people on their best night and tells him to pace himself. Harry compliments Randy for the song choice and just advises Caleb not to hurt himself. 3.5/5
Alex Preston is getting "Pompeii" by Bastille, which has the potential to be amazing given Alex' way of stripping songs down and building them back up again. It's a perfect song choice for Alex and he plays a drum part of the way through adding even more dimension to the performance. And THEN he plays no instruments and moves around the stage high-fiving the crowd and really getting into the moment. Way to go, Alex!! He's in it to win it!
Jennifer calls it an "elevated Alex" and congratulates him on a great performance. Harry once again gives credit to Randy for picking a great song and then tells him he wants Alex to get out of his head. Keith agrees with Harry but says that's partly because there's so much Alex had to remember and thought the coolest moment was when he played the drum while he sang. 5/5
Randy chose "Titanium" by David Guetta for Jena Irene. This is another perfect song choice and Jena gets the cool stage effects. That pedestal she's on is pretty amazing. The arrangement cuts the chorus short because there's not much singing in the chorus of this song and it allows Jena to do her thing. It's not my favorite performance of hers, but it's solid.
Harry calls it another great song choice and says it was totally in her alley. He loves watching her becoming more comfortable on stage. Keith loves her balance of being a singer and performer and still having fun. Jennifer thought the beginning was shaky and Jena never loosened up. 4/5
Round Two: Judges' Choice
Harry, Jennifer, and Keith chose Imagine Dragons "Demons" for Caleb Johnson. He's got an interesting introduction to the song, but it might be too stripped down to cover his vocal injury, and the arrangement isn't very good at all. But the good news is that it's a current radio hit so we can finally imagine where Caleb fits in the landscape of modern music. This is way better than his first performance of the night, even if there are some rough moments. I'm pretty split on this one.
Keith says if you close your eyes you wouldn't know Caleb's hurting and that he killed it. Jennifer had a telepathic moment where she sent Caleb the vibe to sing the song and then told him to sing from his soul. Harry isn't giving him a critique. He wants to know what kind of music Caleb wants to make. 3.5/5
Alex Preston gets "Stay" by Rihanna for Round Two, another perfect song choice. I might like this one better than the original. It's haunting and mellow and perfect. There's just not much I can say other than that. Perfect.
Jennifer calls it beautiful and all Alex's. Harry also calls it beautiful and really really strong and again flips things around on Alex. What kind of performer is he? Keith loves that he's taking artistic choices in owning the songs. 5/5
In the final performance of Round Two, Jena Irene will be singing "Heart Attack" by Demi Lovato. As a song, this is not one of my favorites. As a Jena Irene performance, this is also not one of my favorites. She tries to be too hard when she sings for a song like this one. This isn't great at all.
Harry wanted her to have the same energy from start to finish and then asked his turn-it-around question. Keith says she's "bullet" with her pitch and phrasing and range and loved her set with the band on the stage. Jennifer thought this was a better performance than her first one. 3.5/5
Round Three: Hometown Choice
The mayor of Asheville, NC announces that Caleb Johnson will be singing "Dazed and Confused" by Led Zeppelin. He starts with no music accompaniment which is risky considering his vocal problems this week. He bobbles a note in the intro and then the band comes in to help him out. Keith and Jennifer get up and dance, and by dance I mean Jennifer does a sexy body roll over and over. Caleb saved everything he had for this number and it paid off. 
Keith can't even get his critique started because the crowd just keeps going wild. Keith calls it miraculous healing and then says he just feels like throwing stuff. Jennifer calls it a true Idol moment. Harry agrees with Jennifer and loves that he took full advantage of the moment. 5/5
Alex Preston's hometown chose "The Story of My Life" by One Direction. If anyone can make this song better, it's Alex. And he does. Again. (He sang this song once already.) I don't love the background the stage producers chose for him, but he definitely changes the song up just enough to make it new while still staying true to the original. Well done again!
Jennifer says everyone is great and then tells Alex he did a great job. Harry calls it a classic Alex performance. Keith thought it was hard for him to come out after "Stay" and top it, but says he nailed it. 4/5
To close the night, Jena Irene is singing "Creep" by Radiohead. (Again.) She hits the piano for the final number of the night, which is always a sweet place for her. This time is no different. Just like last week she gives an amazing performance that shows her talent, her vulnerability, and how far she's come over the course of this competition. You DO belong here, Jena. You totally do.
Harry says that something happens when she sits behind the piano. (Magic. Magic is what happens.) Keith says "you so belong here." Jennifer calls it brilliant and says she's going to be hard to beat.
So we're one week before the finale and one night before the Top 2 reveal and here's how it breaks down after tonight:
Caleb Johnson--12/15
Alex Preston--14/15
Jena Irene--12.5/15
Yes, Caleb was sick tonight. But like Jennifer and Keith and Harry and everyone said, that's one of the pitfalls of being on the road. It happens. Singers and performers do the best they can and move on and can't whine about it. No, Caleb didn't whine about it, but if he goes home tomorrow, the story will be that his voice gave out on him when the reality is that while he's fantastic, he's not up to the level of his peers.
Part of that has been song choices which have shown him as a classic rocker in a musical landscape that is more singer-songwriter friendly right now. That's not a knock on Caleb, necessarily. I'm not saying he should change his style to suit the radio. I'm just saying that America votes for what America wants. 
Alex Preston won the night with Jena Irene coming in second. BUT. She and Caleb were so close that it could be either pairing in the Top 2, but Alex will definitely be there. Personally, I want to see Jena and Alex in the Top 2. We'll see if I get my wish tomorrow night.
What did you think of tonight's American Idol? Which of the Top 3 contestants had the best performances tonight?
Miranda Wicker is a Staff Writer for TV Fanatic. Follow her on Twitter.