The Simpsons Review: Moving On

Teresa Lopez at . Updated at .
I always love The Simpsons episodes that show the possible futures of Bart, Lisa, Maggie, Homer and Marge.
And this week was no exception.
The Simpsons Season 25 Episode 18 follows the family 30 years into the future when Homer's reckless behavior finally catches up to him. Like other installments about future, this one showed a realistic picture of how the Simpsons children might turn out based on the influences of their family life.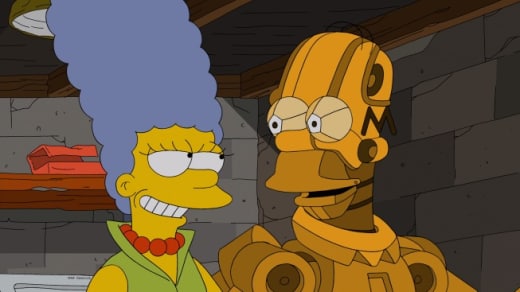 Even though the future episodes are not technically canon (I mean, who can say what will really happen in their future?), I liked that this one attempted some continuity with The Simpsons Season 23 Episode 9.
Bart still has two sons with his ex-wife Jenda, and Lisa is still married to Milhouse, although their relationship is on shaky ground.
The episode may have initially focused on Homer's inability to keep himself alive, but it settled rather nicely on Bart's lack of personal growth. Most glimpses into Bart's future show him turning out as a less successful version of his father (as difficult as that is to achieve), and tonight was no different. 
It was good to see Bart learn a lesson about the importance of moving forward in life and a little to see that Lisa's attempt to save her marriage involved letting Milhouse turn into a zombie.
What didn't work so well for me in this week's future glimpse was the way in which a portion of the show's events didn't actually take place. They were merely the work of the neural implant that the "Moving On" store used to help Bart get over his ex-wife. Although, the series did a nice job referring back to this little plot quirk at the end.
Despite this small quibble I had with the "Moving On" plot, the half hour featured some hilarious glimpses into our favorite character's futures.
Seymour has dinner with the corpse of his mother (as we would all expect), while Maggie has a romantic date with her current uni-browed nemesis, Baby Gerald.
Who's "future" path is your favorite?