The Simpsons Review: Burgled with Love

Teresa Lopez at . Updated at .
Another week and another enjoyable episode of The Simpsons.
After The Simpsons Season 25 Episode 16 featured a touching portrait of Homer and Lisa's relationship, The Simpsons Season 25 Episode 17 seemed to slightly continue that theme.
This time, the focus was on how Homer might affect Lisa's future relationships with men.
And this time it was pretty funny.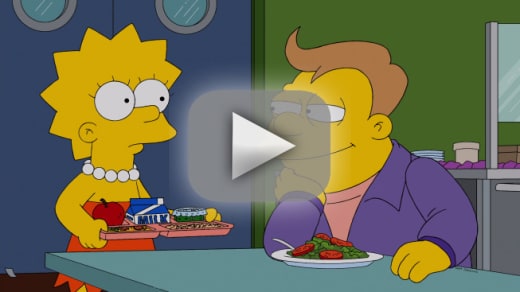 The half hour also included a story involving Bart and Springfield's resident criminal, Snake. The angle was interesting because you'd think Bart would end up bonding with the only other criminal element in town very easily. And it was a pretty quick connection between them.
And there were quite a number of hilarious The Simpsons quotes.
But the best part of the evening was Lisa's new love interest. Lisa meets a boy named Lucas (or Luca$, pronounced Lucadollarsign) who wants to be a competitive eater. In terms of Lisa's past relationships, Lucas definitely reminded her and us of Ralph Wiggum ("He's just Ralph with a dream, the dream of not ralphing").
The way Lucas shoves food into his mouth reminds Marge a little of Homer, and she fears that Lisa will end up with someone just like her father someday.
However, is that such a bad thing?
Homer tries to be on his best behavior (only ordering one entree) when taking his daughter on a date, but he's still hurt that Marge thinks a man like her father wouldn't be good enough for Lisa. While it's true that Homer has his faults, he always shows up for the people he loves.
And he didn't even abandon his date with Lisa when Marge showed up to apologize in her stylish new dress.
The Lisa story offered some funny scenes involving Lucas' competitive eating training (he's wonderfully voiced by Zach Galifianakis)  as well as sweet moments between Homer and Lisa.
But the episode did make me wonder, which of Lisa's boyfriends is your favorite?