The Real Housewives of New York City Review: Witnessing the Crazy Side

Christine Orlando at . Updated at .
There were more "Fireworks" in the Hamptons on The Real Housewives of New York City Season 6 Episode 7, as Ramona and Sonja went head to head and Aviva dropped the F-bomb.
We recap all the drama in our +/- review...
You'd think after Aviva had such a problem with Heather's language that she'd be the last person to curse in front of the kids but it appears we were wrong.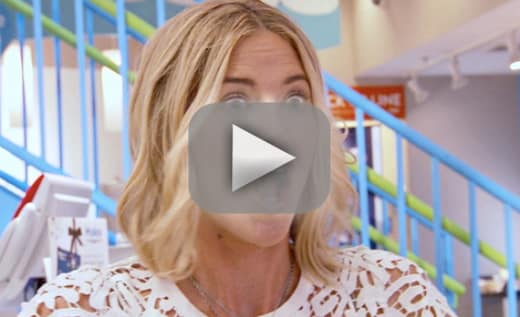 Minus 25. Kudos to Krisen for sending the kids away before confronting the foul mouthed Ms Dresher. Telling Kristen to "Shut the f*ck up" in front of her kids was really uncalled for but it's about time that Kristen started witnessing the craziness that is Aviva. Our advice. From now on keep the children at home. 
Aviva wasn't the only one to take issue with Kristen tonight. Ramona was offended when Kristen offered an opinion about her blowing off Heather's anniversary party. 
Plus 33 to Kristen. The girl's got more backbone than I expected and didn't back down from Ms. Singer. As if Ramona's ever had an opinion that she didn't voice to anyone who would listen.
Which leads us to her argument with Sonja. On the one hand Ramona's worried about everything that Sonja has to handle and in the next breath she's knocking her burlesque show…which she'd never even seen. She just wanted to make sure that Sonja knew people were saying it wasn't good. Minus 18.
Plus 10 because Ramona's right on one count. Sonja has lots of ideas but fails to see them through but maybe she should help her friend instead of bashing her. 
Heather's story line was the most heartbreakingly real. Her son has had so many health problems. It was easy to feel Heather's desperation to fix at least one of them. We have our fingers crossed that it all works out. Plus 50.
Carole and Aviva have a sit down on the beach before the fireworks started. Aviva somehow got a copy of Carole's book before it came out and claimed she read it and loved it. Minus 19. It's when Aviva starts gushing that you really need to watch your back. 
We wonder if she'll accuse Carole of using a ghost voice for the recording of her book.
Episode total = +31! Season total = -165!
Who did you side with tonight, Ramona or Sonja?
C. Orlando is a TV Fanatic Staff Writer. Follow her on Twitter.