The Real Housewives of New York City Review: Don't Screw with Ramona's Do

Christine Orlando at . Updated at .
There was an "Unforgivable Debt" on The Real Housewives of New York City Season 6 Episode 8 - but it wasn't about Sonja's finances. It was Kristen messing with Ramona's hair.
We recap how a spa day turned ugly in our +/- review...
Whatever happens, don't mess with Ramona's do. But let's back track a bit.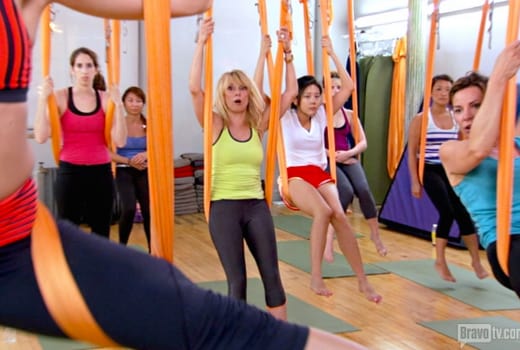 First, Ramona blew off Sonja's sunbathing party. Minus 23. Ramona keeps claiming that Sonja's giving her the cold shoulder but Ms. Singer isn't doing very much to warm things up. 
Instead, Ramona headed to The Designer Show House with Luann and Carole…and threw a plate in the pool. We're with Carole on this one. "It's a designer house, not a frat house." Minus 12. We hope someone fished the dinnerware out of the water.
There were several things Ramona was right about. Sonja is emotionally attached to her home and she isn't facing the fact that she could lose it. But is gossiping about her friend's issues really the way to help? Minus 30. 
Do the other ladies really need to know all of Sonja's financial issues? Nevermind talking about it with the cameras in her face so that the entire Bravo nation will hear.
Yes, Sonja's in denial and she's lashing out. Also, she can never focus on one project long enough to see it through. 
But Sonja is just as nutty as Ramona and there was a time when their craziness complimented one another, but not any more. 
And just when Sonja thinks things can't get any worse, Ben stands her up for dinner. Minus 37. There's not much worse than sitting at a fancy restaurant alone and realizing your date isn't going to show. 
Worse yet, was that her best friend may have had something to do with it.  Apparently Ramona called someone who knew Ben's mother and started poking her nose in where it didn't belong. 
Why was Ramona meddling in Sonja's relationship? Because Sonja's 49 and Ben was 23 and Ramona considered it close to incestuous!  Minus 55. Talk about judgmental!
So, knowing that her friend was at a low point in her life, Ramona decided to take away her boy toy. Perhaps Kristen was right. Maybe Ramona was jealous. 
Plus 27 for the one laugh out loud moment when Ramona called Kristen an instigator. Pot, meet kettle. 
Then in a completely uncharacteristic move, Ramona threw her champagne at Kristen. I think that's what constitutes alcohol abuse in Ramona's world. 
But when Kristen splashed her back and got her hair wet, all bets were off. A ruined do is a sin that may never be forgiven amongst Housewives. 
A few other things worth mentioning…
Did anyone else notice that during LuAnn and Aviva's wine tasting, Aviva liked the wine up until LuAnn said she didn't. Then suddenly Aviva was comparing it to urine. Talk about a suck up, and I won't even ask how she knows what urine tastes like. Minus 13.
The girls having the most fun were Heather and Carole over pizza and tequila. Plus 32. After the spa day debacle we could all use a shot with some salt and lime to relax because I don't think a massage is going to cut it
Episode total = -111! Season total = -276!
So, TV Fanatics, who was at fault? Ramona or Kristen?
C. Orlando is a TV Fanatic Staff Writer. Follow her on Twitter.