What's better than an actual funeral for a dear departed character? Watching his two "Irish mistresses" downing dirty martinis afterward and shaking on a merger.
It's too bad that everything set in motion at the beginning of The Good Wife Season 5 Episode 17 sort of fell apart by the end of the hour.
That's not a bad thing, because it was a damned interesting hour of television. The changes keep coming, just as you'd expect after a traumatic event and the death of someone as alive as Will Gardner.
I've been wondering since before the split of the firms if at some point there would be another merger. Will was so busy scooping up other companies and nobody really seemed happy about it. Except David Lee and Damian Boyle. There always have to be a couple of smart asses around. David Lee phoning Diane right after Will's funeral is what brought up the idea of a merger in the first place.
Alicia appeared to be genuinely shocked at the idea of a merger and perhaps didn't take it quite as seriously as Diane meant it. Alicia isn't used to drinking and she got tanked fairly quick, but they did shake on it. I am not a Wharton graduate, but I know a good lawyer could argue that a handshake is binding. 
Kalinda is suffering more than I imagined she would be, not because she didn't love Will but because she's so tough. Now she can't have sex without seeing Will's blood splatter. That's interesting because he was one of the few fully platonic friends she had and that's the impact his death is having on her. She forced the issue with Jenna to get dirt on Damian to force him to quit Lockhart/Gardner.
That forced outing put Diane back into control for a little while. In his anger at being torn asunder, David Lee (he's really not David without the Lee, ya know?) took it upon himself to call Louis Canning and offer them up for a merger. Since he's in the previews for next week and in Will's office, apparently the idea gets a majority vote. Will this be what drives Diane and Kalinda to join with Florrick/Agos or will things at Lockhart/Gardner fail so spectacularly with Canning that the merger fails and David Lee goes with him?
The reason one of those options is so appealing -- especially the original merger between the two remaining firms -- is because the dynamic Diane has with Alicia and Cary is outstanding. Fighting cases together again -- such as the death row cases they've visited in the past -- will be brilliant if they're all on the same team. When they're fighting each other, the legal aspect of The Good Wife isn't nearly as interesting. 
If Michael J. Fox signs a deal that keeps Canning on the series, his partnership with David Lee would be enough to start building an opposing firm that would be a good nemesis but give Diane back to us. She truly is like a gazelle on the savanna and it's not been fun to watch since they all parted ways.
Alicia could probably be in big trouble for reaching out to Finn after learning information from Jeffrey Grant's father about the State's Attorney's Office. Nonetheless, she's not in the mood to play games. Unfortunately, she also wasn't in the mood to attend the hearing she had with Finn when he really needed her. He's a good guy and understands she's hurting.
He's offered his hand in friendship. Let's hope she doesn't wish it to be more considering who died in his arms.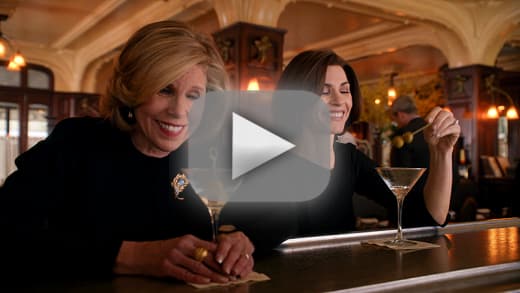 It was ironic that the state's attorney said he wanted an honest office and blah blah, then turned around and conveniently forgot he was the one who prosecuted Jeffrey Grant. He's no friend of Finn, and now Alicia is going to have less pull with all the offices in government considering she just effectually pulled out of her marriage.
It wasn't a surprise that she was going to tell Peter to pound salt. He wasn't nearly as compassionate about Will's death as he should have been even if she did have an affair with him. If he really didn't want her to throw away her marriage, then he should have given her a shoulder and stopped with the pretend "Are you alright?" questions when he didn't really want to know the answer. 
The result might have been different had he not expected her to be present at photo ops within days of Will's death or funeral. Everyone knew the man killed in the court house was a coworker of Alicia's so it wouldn't have been negative press. The writers wanted to paint Peter poorly and they did a great job.
A lot of people are struggling. Diane is being fed to the wolves by her own firm, Kalinda sees Will's face when she wants intimacy, Alicia is fighting everyone with every fiber of her being and not holding on very well and David Lee is fighting for -- something. It's never a dull moment. Catch up with episodes and reminisce about Will when you watch The Good Wife online.
Do you think Diane will end up at Florrick/Agos?
Carissa Pavlica is the managing editor and a staff writer for TV Fanatic. She's a member of the Critic's Choice Association, enjoys mentoring writers, cats, and passionately discussing the nuances of television and film. Follow her on Twitter and email her here at TV Fanatic.