The Homecoming Queens got their crowns on Faking It Season 1 Episode 2. 
The coming out party didn't waste any time, either, as Amy came out to her mom on the local news.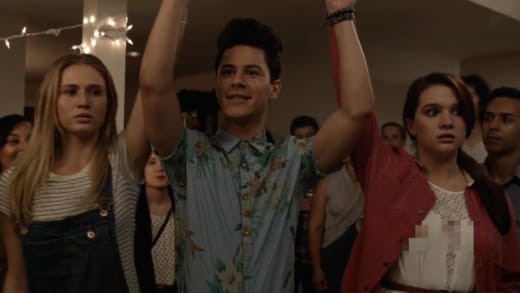 All of the significant milestones are happening pretty quickly, as is Karma's continuing infatuation with Liam. She wants to get with him, but she wants to save herself until he truly falls in love with him.
Most of the time, though, it only comes across as a way to get Amy closer to Karma. Liam, meanwhile, is trying to fulfill his own cliche of sleeping with a lesbian. Karma drops the line specifically for him no less.
Amy's friendship with Karma, and her continuing feelings for her, were the highlight of the installment. Amy's questioning and wondering added so much needed authenticity; and without it the show would be completely two-dimensional and wooden. 
Lauren is still a walking stereotype; she blackmailed Amy into a bigger room here. Obviously she's necessary for conflict, but as the series does progress, Lauren having some actual flaws instead of relying on tired stereotypes is necessary.
Without some detail to her, there's very little for Lauren to add to the conversation. 
At least Shane is beginning to be a go to friend for Amy since Karma's interests are solely with Liam and popularity right now.
Are you glad Amy and Karma are now "out?"