Faking It Review: Almost Making It
Nick McHatton at . Updated at .
Honestly, Faking It did not climb very high on the radar as a show I would want to watch. A fake gay relationship feels past the MTV generation when a real one would be accepted with no real problems whatsoever. 
Thankfully, as Faking It Season 1 Episode 1 points out, there is life past the phony relationship. It's just a matter of getting to that point first - but with both sides "un-outing" themselves in the premiere, the timeline can't be very long.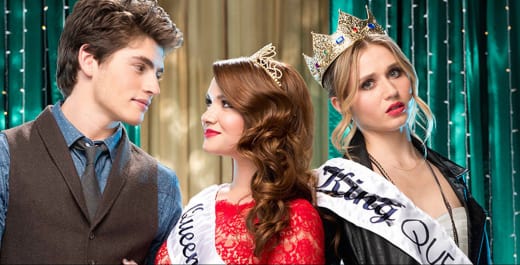 Credit where it is due for at least having one of the characters question her own sexuality. Amy and Karma both being straight would be fine, but with Amy at least being taken aback when she realizes she feels something in her kiss with Karma shows real promise that Faking It, won't well, be faking it forever.
It's a good opportunity to explore. 
Amy's feelings for Karma is a subtext woven throughout the show in various moments of gaydar pings by Shane and relationship issues with Karma.
Mostly, this installment centers on the friendship between Amy and Karma and the various ways they try to help each other. Amy, particularly, is willing to go along with the entire ruse to make Karma happy.  
It could be an interesting twist for Amy to stop pretending to be gay and suddenly be pretending to be straight. 
The supporting characters of Shane and Liam are pretty one note at the moment. Liam, particularly, is just about finding the right buddy for the night and his general ideas of women in general are rather sad considering how progressive the show is trying to be.
Lauren, meanwhile, is mostly sticking with her stereotypes and nothing else. 
Faking It uses its premiere to set up the friendship between Amy and Karma and the crazy scheme they've gotten themselves into, but as the season progresses, the series is going to live and die by its cast.
Liam, Shane, and Lauren all need to begin to be fleshed out to make any real dent in MTV's comedy slate - and bringing some of the adults into the stories wouldn't be such a bad idea either. 
What did you think of Faking It's premiere? Grade it!