The saga of The Ghost Killer is over. 
With some very inconsistent writing on Bones Season 9 Episode 22, the final link between Brennan and Pelant came to an end, but there was very little of note about how satisfying that particular part of the case was for Brennan.
I know this is going to be an unpopular review, but it felt as if this episode was slapped together to move on from that portion of the Bones history and close the chapter. In doing so, there was very little actual satisfaction to it all.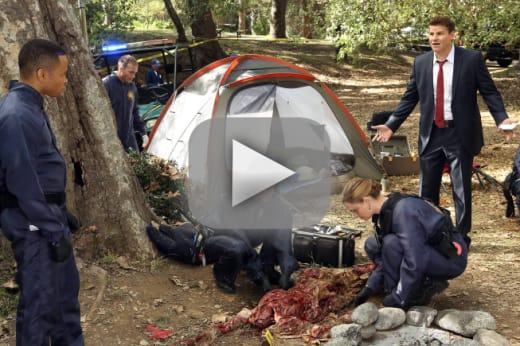 The best scene was the opener, when the rotting corpse of The Ghost Killer herself, Stephanie McNamara, fell down upon an unsuspecting family camping while they were actively telling ghost stories. Hodgins had something right -- they'll be using hotels from now on!
Booth is still up for a promotion, and we still don't know exactly what it is. Brennan was filling out some paperwork to aid in the agency's determination about his fitness for the job and she had a phone book full of answers she's written up. Handwritten notes, not computerized. For all the high-tech gear she uses at the lab, she uses a good old pen to write dozens of pages about her husband and his competency.
That was odd.
Considering Hodgins grew up with the McNamara family, it's strange he wasn't featured more prominently as the case came to a close. That family was, indeed, the key as suggested in Bones Season 9 Episode 12 where I nailed Stephanie as the serial killer. Just because we never saw her again doesn't mean I wasn't right.
She started her spree at age 15 and a school teacher took the fall. Years later upon his release, he killed her and planned on taking out everyone else involved with putting him away because of the layers of officials and government the McNamara family paid off to protect Stephanie and let her continue killing for years to come.
I thought it was horrible that the guy was in such a terrible place that the only justice he could get was of the vigilante kind, but he had been let down over and over again. What else would he think? Brennan thought it unfair Caroline was working on a deal for the guy to get more information, but Booth had it right.
Brennan: He's a killer.
Booth: Yeah, but who he killed. In the old west they would have made him a sheriff.
During the investigation it was discovered that there was a McNamara daughter, illegitimate, who stood to inherit billions. She was initially a suspect but even after the case was closed was not mentioned again. Considering the bombshell of that discovery, a follow-up scene where she learned about her family and her future seemed appropriate.
At the end of the hour, Booth learned he was recommended for the promotion, but had to be confirmed by the house sub committee. I suppose that means he's not being considered for a sniper position? Was there something in the hour that earlier confirmed he was up for the head of the German outpost or did I miss it? 
They kept talking about the promotion as if we knew what it was. He's on the short list for the N... ? And he was cut off. I've now watched the installment twice and gone back to the important bits several more times for details to try to find out what good news changed Booth from skeptic to hopeful about the promotion and I got bupkus.
Let me know what you thought about the installment in the comments (as if I could stop you!) and meet back here next week. In the meantime, you can watch Bones online here at TV Fanatic.
Was The Ghost Killer conclusion satisfying?
Carissa Pavlica is the managing editor and a staff writer and critic for TV Fanatic. She's a member of the Critic's Choice Association, enjoys mentoring writers, conversing with cats, and passionately discussing the nuances of television and film with anyone who will listen. Follow her on Twitter and email her here at TV Fanatic.