It may be a bit early, but The Simpsons seems ready for the World Cup.
Or at least it wants to remain ahead of pop culture instead of behind it.
Despite not being really topical, The Simpsons Season 25 Episode 16 highlighted one of my favorite relationships on the show: that of Lisa and Homer. Although the two share very little in common, they find ways of bonding that are always uplifting.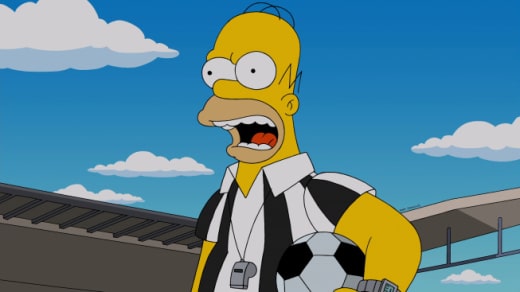 The episode nicely referred back to a past bonding moment between Homer and Lisa: When Lisa took advantage of her father's position as coach in "Marge Gamer" back in The Simpsons Season 18. Homer had to red-card his own daughter,and that tough decision gained her respect.
This time around, Lisa chooses Homer as her hero for a school essay contest. Homer is awed by her admiration (as are the people of Springfield). Lisa's speech inspires Homer to be a better man, especially when he's offered a position as a referee for the World Cup.
The way Homer refuses to be swayed by the piles of money offered to him makes a usually annoying character rather endearing.
Unfortunately, Lisa didn't pick Homer as her first choice for her personal hero. Homer was a quick substitute when she found out that Martin Prince chose Marie Curie too. The knowledge that he was second choice injures Homer's pride and makes him succumb to the bribes of local gangsters.
BUT, luckily. Lisa is there to tell him that his behavior so far has shown that he can be the man she admires. Homer decides to keep his integrity
Aside from a touching story, the episode featured some hilarious scenes and sight gags. For one, Kearney placing an "admire me" note on Homer's back (instead of the usual "kick me" sign) during Lisa's speech was nice touch.
But that one paled in comparison to the montage of creative bribe offers in Brazil. It was an amusing way to make fun of the rampant corruption found in World Cup competitions.
There were also some great The Simpsons quotes.
The episode certainly made me look back at all the bonding moments between Homer and Lisa.
Which one was your favorite?