The Real Housewives of Beverly Hills Review: Lisa's Left the Island

Christine Orlando at . Updated at .
"The Kids Are All Right,"  but the ladies of Beverly Hills are anything but as they turned on one of their own like a pack of wild dogs this week.
No, wait. I think dogs are much more loyal. We recap all of the back biting and name calling in our TV Fanatic +/- review...
The Real Housewives of Beverly Hills Season 4 Episode 18, the ladies found their new favorite past time…bashing Lisa Vanderpump and boy did they enjoy it. Minus 20
Yolanda Foster complained that Lisa left because she didn't want to have a conversation but the ladies version of conversing came across more like wanting her to sit there and let them berate her. 
As much as I wish Lisa had stood up for herself more, I really couldn't blame them for leaving the trip early. 
But much of the leaving seemed to be Ken's idea. First Kim's calling him a "big, stubborn, old man" and then his friend Mauricio was believing the worst of him and his wife. Plus 16. Heading home must have seemed like the right idea. Why stay somewhere where you are obviously not welcomed.
And could someone please tell me why Mauricio is suddenly believing a story of Brandi's over his long-time friend? Minus 30. That makes no sense. 
All of this angst is over a tabloid that may or may not have been packed in a suitcase to Palm Springs? Kind of ridiculous. Minus 27.
I wish Brandi Glanville would figure out exactly why she's so angry with Lisa. Is it because she stopped calling her every morning? Because she snuck a magazine into her bag? Was it that she somehow manipulated Brandi against her own will into being her mouthpiece against Adrienne or that Lisa employs one of the many women that Brandi's ex-husband cheated on her with?
In other news, Yolanda and Kim packed their daughter's off to college. 
Holy smoke! Did you see Gigi's apartment? Plus 35. Yolanda can send me to college any day.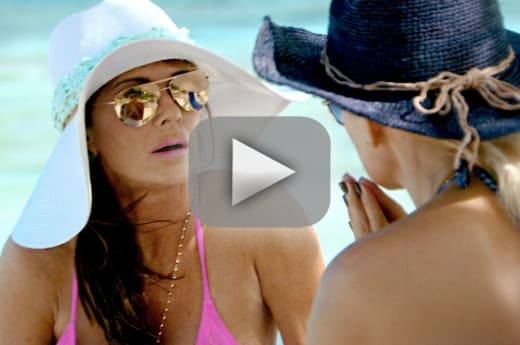 Kim's daughter's digs were way more realistic and I'll admit that when Kim said, "there was a time when I almost wasn't here for this," I got teary eyed too. Plus 50 for getting sober and being there for the important things. 
But with all those tears being shed on both coasts, I liked Gigi's response best,  "I'm not like dying, I'm going to college." Plus 14.
Besides, next week is the Beverly Hills 100 Years Party. Save your tears. I think you're going to need them.
Episode total = +38!  Season total = -309
Your turn, TV Fanatics. Should Lisa and Ken have stuck it out in Puerto Rico?
C. Orlando is a TV Fanatic Staff Writer. Follow her on Twitter.