To answer our own question posed in the photo preview for The Good Wife Season 5 Episode 15, that's how it will all end. 
It's interesting, looking back at an episode or the one previous to see what was essential after an explosive event occurs. What The Good Wife managed to do with Will Gardner's death was show what's really matters in a life. 
We get caught up in the daily grind and obstacles seem crucial as we struggle to get through them, but when a life can end at any moment it's the little things that matter. Those big troubles aren't really that important after all.
The case Will was working on so diligently on behalf of a client who may or may not have been guilty holds little weight at this point, even given that Jeffrey Grant was the person who killed Will. Will thought he was doing what was best for Jeffrey and instead Jeffrey saw only despair and the lack of hope. His lack of faith in the proceedings or his guilt was guiding him and there was little anyone could do to stop him.
The Good Wife Season 5 Episode 14 takes on new meaning given the context of Will's death. Alicia and Will had a chance to catch up, albeit unexpectedly, with good results. Their decision to move forward in their relationship with a fresh perspective allowed Alicia some last words with Will that included laughter and kindness. She'll remember that for the rest of her life.
Kalinda's talk with Will went well and the two also spoke humorously about their addiction to their work, with Will teasing her she would never be able to give up the high she feels when she stumbles onto essential evidence. It's another relatively meaningless conversation that takes on greater meaning after Will's death.
It would seem that if those two small things seem so significant straight off the bat that the weeks to come will be full of memories of Will and what his presence meant to people at Lockhart/Gardner, at Florrick/Agos and in the personal lives of Alicia, Diane, Kalinda and Cary. Their very foundation has been shaken.
For all of the comments that kept pointing out the short-term contract Josh Charles had with The Good Wife, death didn't seem the obvious choice for him to leave, but a lot of series have been choosing the big, shocking deaths this season. Whether you watch teen genre shows or dramatic serials, they're all on par with each other in the feeling that leaving a character alive isn't always the best option. 
Dramatically, it's a fantastic story arc and one that touches every central character and action they make going forward for some time. It's not difficult to imagine the writers rubbing their hands together at the idea Will Gardner wasn't long for this world, especially as fans everywhere constantly play out what they consider one of two scenarios: Alicia ending up with either her husband Peter or deciding to fall head over heels for the one that got away, Will.
During a detailed conversation recently it became difficult to imagine The Good Wife without the wife. Peter's conspicuous absence from the scene lately has also raised eyebrows. There is an entire case being built around Alicia, Will, Eli and Marilyn to get Peter Florrick on election fraud but he's been MIA. 
With Josh Charles' absence I hope to see Matt Czuchry take his rightful place as one of the two top leads alongside Chris Noth. Czuchry has certainly earned his right to step into the leading man role and his patience is commendable. Now it's time for a reward. The partner and the husband should be brought into focus in this new scenario and their reactions to Will's death will be most intriguing.
There was also talk at one point about the recombination of the two firms. Does the loss of Will make that a possibility again? The key players in Lockhart/Gardner are Diane and Kalinda. The two could easily join forces with Alicia and Cary to form a powerhouse firm. The dead weight presented by David Lee and Howard Lyman being cut loose wouldn't affect the show in any way but a positive one.
Bringing Michael J. Fox on board to temporarily replace Will (I don't see him being a long-term fit for the series -- what are your thoughts?) seems like an instigator to get to a place to drive Diane and Kalinda to greener pastures rather than keep them bound to the firm Diane and Will started together. Diane did envy the frenetic atmosphere of Florrick/Agos when she visited.
Changes will be afoot either way. She hasn't been happy with the way things have been going at 'LG' for a while. It's time to assert herself. 
Now that all of that speculation is out of the way, let's touch briefly on the somber nature of the death and the kindness that continues to flow between all of those involved.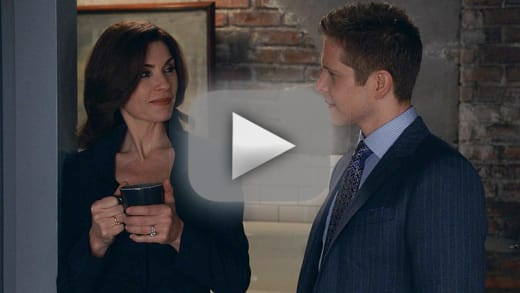 The music playing in the head of Jeffrey Grant both at the beginning of the hour and as he watched Will joking with the judge was well placed and haunting. Skipping the camera to Diane, who we didn't even know was working a case in the courthouse and her and Kalinda touching base as Kalinda ran to the courtroom only lent to the frightening nature of a mass shooting. 
Kalinda nearing the courtroom and seeing Will's shoe while breaking through the very poorly cordoned off doorway, the slick shot of Jeffrey trying to shoot himself only to find he was out of ammunition and Will lying with his head in his sparring partner's lap, bleeding out unable to speak only made the confusion at the hospital more upsetting, as Diane and Kalinda thought Will was being treated, only to see the medical examiner leaving a curtained bed, again with that shoeless foot.
Diane's murmured, "He doesn't look like himself," is exactly the type of thing someone says in that situation. Things don't make sense. Diane's first call earlier to Alicia went unanswered but once they had confirmation on Will's death, Alicia reached out through Eli.
It was fitting, Eli being the one to take the call. Eli who at one time erased a message from Will telling Alicia he loved her; the one that might have changed both of their lives forever. Eli was at the heart of the affair between Will and Alicia as much as they were. He knew enough not to dally with a call delivering the information of Will's death. We see Alicia say hello and it fades to black. 
Will Alicia bring up that erased call? How many other moments and decisions and lost connections will she rethink and relive as she tries to think of ways this could have all ended differently? We shall find out next Sunday when the next installment airs. Until then, you can watch The Good Wife online if you want to remember their good times.
There are many, many more things that haven't been addressed here. There isn't the time or the space to do it all adequately. Share your thoughts about the episode in the comments.
Will you still watch The Good Wife after the death of Will Gardner?
Here is your first look at The Good Wife Season 5 Episode 16, "The Last Call."
Carissa Pavlica is the managing editor and a staff writer for TV Fanatic. She's a member of the Critic's Choice Association, enjoys mentoring writers, cats, and passionately discussing the nuances of television and film. Follow her on Twitter and email her here at TV Fanatic.