The Good Wife Review: An Ongoing Conspiracy
Carissa Pavlica at . Updated at .
It's really easy to get lost in the details, especially in an hour as bogged down as The Good Wife Season 5 Episode 13. The trick is that the details only serve as a distraction to the main issue.
To what lengths would Will Gardner go to protect Alicia Florrick?
As confusing and convoluted as this hour tried to make things by coming in at Alicia because she's an easier get than Peter, it's really going to come down to the triangle.
Will showed Peter the video, Alicia represented Peter -- as whacked out as it's become, they're all mired down in it together.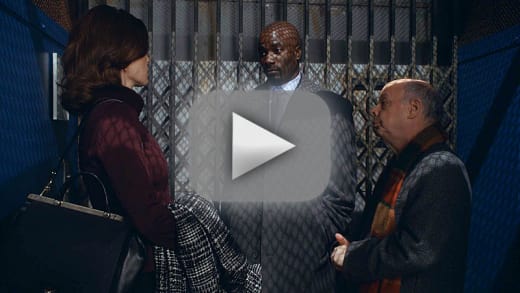 It's difficult to watch this mess unfold without being at least a little bit angry at the Florrick kids for not bringing what was going on with Grace to Alicia's attention. If they had done that and given a larger scope to the snooping activities it might have given Alicia reason to look deeper into things and perhaps Robyn or someone would have discovered the breach. 
Granted, it's the NSA and they're damn good at covering their tracks (look how long it took them to get the burner phone number), but if they had been searching for something earlier they might have at least been warned of this shit storm that's about to come down on them.
Peter dodging Marilyn because she wouldn't cook up her response to his satisfaction worked out well, didn't it? She's practically bursting with baby -- it's not the time to be messing with her. A pregnant woman. What was he thinking? I didn't expect her to give the video over to Mr. Dubeck so easily, but if Peter had met with her she might have had a change of heart.
Alicia's tough exterior as Dubeck was laying it on the line didn't exactly make her look like a sympathetic, put upon wife and probably won't play well as things continue to pile down upon her and it seems the course they're going to take it to dump it all down on her instead of Peter to draw him out. 
They have the phone calls linking Will to Alicia so they're undoubtedly expecting him to turn on her also. What I don't understand is what going after Alicia will really do if they can't get Peter -- the governor -- as a result. Isn't he end game? Would arresting and putting Alicia behind bars, or Will if he took the fall for her, be worth all the effort?
The question comes down to whether or not Will would let the gauntlet fall onto Alicia. There is absolutely no case whatsoever that he hates her, and his decision off the cuff to stand behind attorney client privilege had nothing to do with Peter and everything to do with Alicia, of that I'm certain.
Cary and Kalinda just slipped under the radar and under the covers, but I'm not pleased with them sleeping together. It's a step down for both characters to use each other. Cary claims he doesn't trust her, but still has sex and she takes their pillow talk back to Diane. It's kind of disgusting. I'd like more for them both.
Finally, have you ever seen a more poorly developed pretend TV show on a great real TV show before? Poor Grace -- what was she watching? It didn't escape me that the woman held at gunpoint was in love with two people, or at least slept with two men and was about to pay for it. Now wonder Alicia needed more wine!
Are we moving into a situation that will bring Alicia and Will closer and tear her and Peter apart? Hit the comments and spark up a discussion. If you want to revisit any previous installments, you can easily do it when you watch The Good Wife online. And -- welcome back!!
Do you think someone will go to prison for voter fraud?
Here is your first look at The Good Wife Season 5 Episode 14:
Carissa Pavlica is the managing editor and a staff writer for TV Fanatic. She's a member of the Critic's Choice Association, enjoys mentoring writers, cats, and passionately discussing the nuances of television and film. Follow her on Twitter and email her here at TV Fanatic.