How I Met Your Mother Review: Accidental Curly

Chris O'Hara at . Updated at .
With just three episodes remaining, and the How I Met Your Mother wedding imminent, a late arrival threatened to bring the whole day to a halt.
Some may have been surprised to see such a random face from the past, especially given how little time we have left with the show's core characters.
But Gary Blauman, played by Cobie Smulders's real life spouse Taran Killam, was anything but a distraction. Instead, he was the impetus for the gang to recall some memorable moments from their pasts.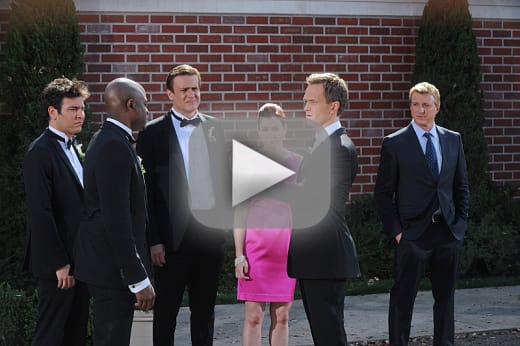 Marshall presided over the character hearing for Gary, but he also delivered the show's main theme, which Ted took to heart and relayed to his kids on How I Met Your Mother Season 9 Episode 21.
And that's how it goes kids. The friends, neighbors, drinking buddies and partners in crime you love so much when you're young, as the years go by, you just lose touch.

Ted
The date we saw Ted and the mother on was just days after the wedding, so it stood to reason that having just said his goodbyes to his friends at the wedding, Ted was as emotional as ever.
Yet he resisted the urge to make some romantic gesture at the door to the mother's apartment. Lucky for us, the mother saw something in Ted and stepped up to the mound on only a few days rest.
You will be shocked kids, when you discover how easy it is in life to part ways with people forever. That's why, when you find someone you want to keep around, you do something about it.

Ted
Amid glimpses of Ted's failed night of Scottish/Mexican Fusion, we were treated to a number of great scenes by the rest of the gang.
The Eriksens were back in peak form as Marshall pointed out Robin's bird nest looking bun and Lily shared the story of how Gary saved her from getting a rather terrible tattoo. 
Marshall, Blauman saved you from a lifetime of looking at Sugar Ray every time we do it on your birthday.

Lily
Barney's reason for holding such a grudge against Gary at first may have seemed trivial, but then it was revealed that the last of the four fries Gary helped himself to was, in fact, an accidental curly.
You take a man's wife before you take his accidental curly.


Marshall
Accidental curly or not, in addition to never seeing The Karate Kid, Gary also must have missed the 1990 classic Met at Work.
For if he had seen it, he would have learned that there are several sacred things in this world that you don't ever mess with. One of them happens to be another man's fries. Now, you remember that, and you will live a long and healthy life.
Amid all the regular cut fries of the world, Ted sure looked convinced he had found an accidental curly. Some of the looks he and the mother exchanged were more powerful and emotionally charged than any bit of dialog tonight. Ted's last line was a good one, though:
The Mother: What are you doing?
Ted: Remembering this.
As for the update on how the likes of Jeanette and Scooter ended up, my favorite was seeing Ranjit kicking back as the owner of the limo service.
All in all I thought it was a great episode. Things are starting to wind down and get nostalgic, but there still is the wedding to look forward to along with much more.
Which character do you hope to get one last look at before HIMYM says goodbye?