Community Review: Rage Mountain, Skull River

Gabrielle Moss at . Updated at .
It's tough to swing a sequel.
Even the best ones sometimes falter - as much as I love Ghostbusters 2, say, it's still never gonna be regular Ghostbusters. And for every sequel that exceeds the original - an X2, a Bourne Supremacy - there are hundreds that fall far short of the mark.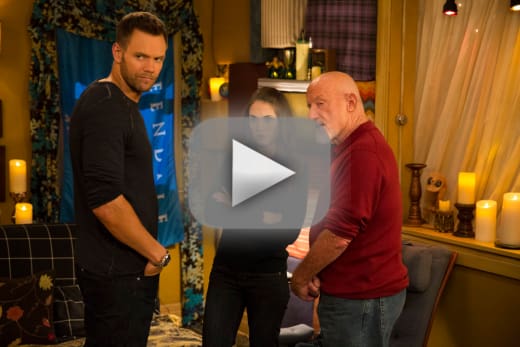 I haven't been able to decide if Community Season 5 Episode 10 - an informal sequel to Community Season 2 Episode 14, a.k.a. "the Dungeons and Dragons episode" - is a Ghostbusters 2 or an X2. In a way, it's a little bit of both.
While the original episode had, well, originality on its side, this half hour had Jonathan Banks and guest star David Cross as the Hickey men, who both boast wits so dry, they could start a forest fire.
It was the Hickey family's show, with nearly every one of the night's many excellent Community quotes coming out of one of their mouths, and if the other characters mostly stepped aside to allow us to go in deep with this new character, I didn't necessarily miss them.
But while one of Community's greatest pleasures is simply watching the characters talk to each other, it helps when something - anything - else happens on an episode. Though there were some wonderful jokes, and Abed's performance as two hobgoblins was a tour de force achievement in field of Community lunacy, by the end of the show, nothing had really happened: no lessons had really learned and nothing had really changed.
Which is maybe a lesson in and of itself? But it's a lesson that might be more entertaining to teach than to watch.
So was this your Ghostbusters 2 or your Bourne Supremacy? Or do you think I'm nuts for loving the Bourne Supremacy? Wait, don't tell me - just answer me this:
Which was the better Dungeons & Dragons episode?