Welcome to Chicago, Ian Bohen! 
The perennial Teen Wolf favorite everyone loves to hate joined Chicago PD Season 1 Episode 8 as Edwin Stillwell - and he quickly got started causing some trouble for the Intelligence Unit.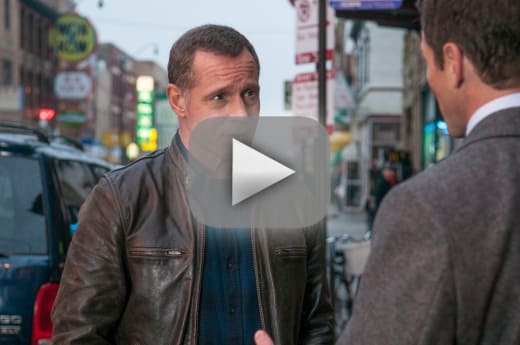 Stillwell is the latest Internal Affairs agent to go after Voight and he made his presence felt immediately, unlike  his predecessor. Stillwell is not afraid to ruffle some feathers or place his own agent in Voight's team.
He comes across as a nice, reasonable guy at first - but his actions reveal a shark underneath. 
It's the perfect roadblock to give Voight: a man who's following the letter of the law (so far); Stillwell is working to take down Voight as Voight tries to clean the dirt off himself and use his second chance to really clean up his city. Two men with the same goals, yet their methods are different. 
Still, Voight's chat with Maurice at the end...there's something off about it. Internal Affairs has been breathing down Maurice's neck for a while and Voight making the call to turn him in in exchange for the Intelligence Unit's freedom is something that is right up his alley.
It's the perfect way to get Affairs off his back for the autonomy he desires. 
Ruzek and Burgess, there was some definite chemistry between the two of them on Chicago PD Season 1 Episode 7, but them working together as one of Olinksy's punishments to Ruzek for being above his fellow officer only amplifies their chemistry.
With Jay and Erin on a cool down and Ruzek still not completely with in tune with his fiancé, I see no other option for Ruzek and his wife other than a break up. 
Their engagement has already had a rocky beginning and this adds just another layer of complexity to it. Ruzek doesn't look at his wife the way he looks at Burgess,and that's never a good sign. 
Will Ruzek ever make it to the altar?