The end of Shameless Season 4 Episode 5 was a frightening and awful situation that left Liam in the ICU and Fiona in handcuffs.
Shameless Season 4 Episode 6 only solidified the fact that Fiona is never going to forget that she almost let her baby brother die.
And if she weren't punishing herself enough, Lip is next in line to remind her just what she did.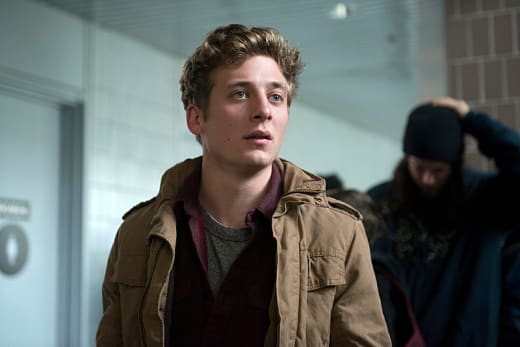 The thing is, Lip didn't actually say anything to Fiona to make her feel more awful than she already did. It was his somber silence that let her know just how badly she let the family down.
It may have been an accident, a careless mistake that young people make, but Fiona can't afford those mistakes when she is the legal guardian of four children, one who is still a helpless toddler. (Side note: she doesn't even know where the eldest of the four is.)
In the hospital when the doctor kept telling everyone she needed to speak to a legal guardian and wouldn't tell them anything, I could feel Lip's frustration mounting with every second that passed.
Just because someone is a parent or technically in charge does not by any means make them the most responsible person in the family.
Look my mom's a bipolar drug addict who split years ago, my dad's a drunk, and the cops just hauled Fiona off to jail, okay? Look I'm the only thing that passes for a responsible adult that you're gonna find. Now how's Liam?

Lip
Lip's rant really said it all. I'm just glad he's over 18 and was able to get to see Liam and figure out the legal issues that needed to be handled.
It's sad that Frank is more trustworthy on paper than Lip. Also great for Frank that he's bonding with his new daughter Sammi, but he has completely neglected his other children. No wonder Carl ran away from him before the sweat-lodge.
Frank doesn't care about people who can't do anything for him. And you know what? His time is almost up.
Maybe Frank should think about making amends because with the way he's looking and feeling, he's gonna bite the bullet really soon. Don't take my word for it, listen to the doctor who told him his death was so imminent that the funeral arrangements should be made yesterday.
Do you feel bad for Frank?
I was completely shocked that Fiona made bail. Kudos to Carl on thinking of Mike to help them out. Anyone else out there really wish it could've been Jimmy/Steve coming back to the rescue. I know Justin Chatwin left the show, but I can't help but hold out hope! 
One of the readers in the comments posted that after seeing Ian last week, perhaps he ended up developing bi-polar disorder like his mother Monica. I think that could make a lot of sense, given how all over the place Ian's behavior was.
It was strange and out of character for a kid so disciplined he snuck his way into military school. I'm interested to see how that might play out.
Can somebody tell me what the hell Sheila is doing taking up half of the episode? Nobody cares about her boyfriend and his nephews who made up names like "one eyed snake." We get it, it means penis... can we move on?
Sheila kept looking at Karen's old bed and you know she felt lonely. That's the part where I hope she can come in and help out as a guardian for the Gallagher kids.
We sure as heck all know that they could use the help right now. I wouldn't be surprised if Fiona lost custody after this incident. Then, if Frank gets killed off, who will they have?
Even if Frank doesn't get killed off that social services woman was not happy with the situation she saw. So what's it going to be?
Do you think Frank will live to see the end of Shameless season 4? Vote below and then sound off in the comments.