Cougar Town Review: Funk Breakers
Nick McHatton at . Updated at .
Chick came back for a visit on Cougar Town Season 5 Episode 5, as his recent Alzheimer's diagnosis puts him in a funk.
And Jules' dad running everyone into the ground with his 5K coaching and then sending them into Ellie's sick clutches like some emerging vampire coven was funny.
However, like most Cougar Town episodes that involve Chick, humor was not really the focus. His appearance is typically an opportunity for the show to sidestep its zany antics for a few moments and bring to focus the emotional core.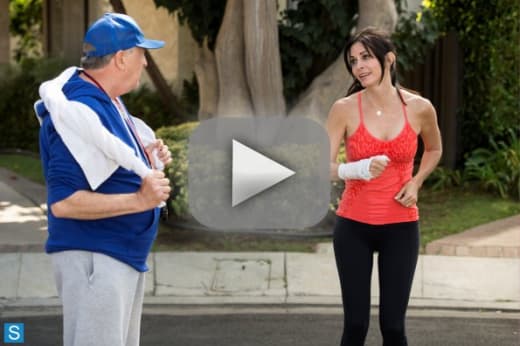 Jules worrying about Chick's health and well-being - and for how long his memory will last - is a scary situation. Most everyone will agree that watching a parent forget who they are and the memories they have built together is a fate worse than death.
Jules finding Chick in their reconciliation spot in the park was a welcome relief, and so long as she can keep him engaged and active, she has a better shot of keeping his health in check while he lives out his later years.
Grayson working as the low testerone guy in a commercial playd up his vainness perfectly, but it also gave us some insight into Bobby in the process.
Bobby is mostly used for odd humor, but once in a while there's a man there that wants to attain his dreams and better himself. His admission of wanting to get married again was something that he can achieve. He knows his chances aren't great - he lives on a boat and he's, well, Bobby - but his goal is still achievable.
What did you find most entertaining?