The Simpsons Review: Nerds Do Get Girls

Teresa Lopez at . Updated at .
Best episode ever?
Not really, but I quite enjoyed all the comic, sci-fi, and various pop culture references in The Simpsons Season 25 Episode 10.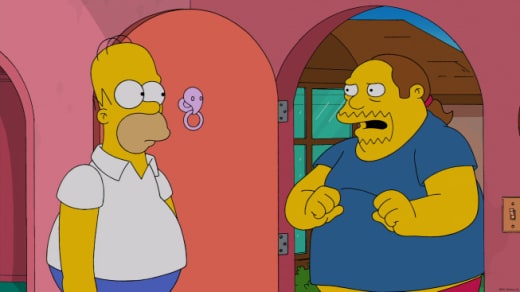 Comic Book Guy is mostly an ancillary character (who's been romantically linked to both Edna Krapabbel and Agnes Skinner), and he can't really carry off an entire episode on his own. There were no secondary plots to occupy our time, and many of the regulars were merely background players this week.
BUT with appearances from Stan Lee and Harlan Ellison and a romance blossoming across the pages of Kumiko's Manga comic, the story was sweetly and entertainingly told. Kumiko's admiration of Comic Book Guy's snark perfectly reflects the reason why most Simpsons fans love Comic Book Guy.
Plus, the hallucinatory sequence was a beautifully animated tribute to Anime director Hayao Miyazaki.
Unfortunately, the aforementioned hallucination shared by both Homer and Kumiko's father felt like an echo of Homer's Guatemalan insanity pepper trip in "El Viaje Misterioso de Nuestro Jomer." The sequence followed a similar pattern from ingestion of dangerous substances to crazy delusions to  insightful epiphany.
Yet, the references to Mr. Sparkle did get a giggle out of me. Sometimes it's nice to remember the classic episodes. And there were some great The Simpsons quotes from Comic Book Guy.
Who is Comic Book Guy's best girlfriend?