Any The Simpsons fan has probably wondered how Marge could keep putting up with Homer and his thoughtless antics after so many years.
Tonight, we got the answer - THERAPY!
The Simpsons Season 25 Episode 11 revealed Marge's little secret to Homer and to fans. It wasn't the first time Marge tried counseling (couples or otherwise) on the show. Past endeavors successfully helped her overcome her fear of flying, but Homer stopped the therapist from getting into the deeper issues of their marriage.
Yet now we find out that she's been going secretly.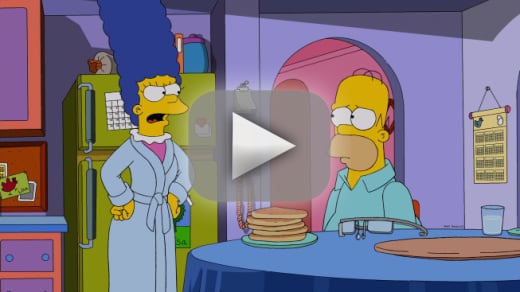 Now this was a Valentine's Day episode, so the plot had to explore the holiday through the kids. The school's rule that every child had to give all of his/her classmates a Valentine made for some interesting commentary on the "fragile weirdos" that comprise this most recent generation of children. Bart's take on the holiday, that it's really based on fear, was pretty on target, but the B-storyline didn't add much to the overall episode.
I much preferred the "I Love Lisa" Valentine's episode. It was emotional (poor Ralph!) and hilarious.
As for the main plot, it wasn't that hard to guess that Marge would need a little support to get through life with Homer. And Homer handled the new information quite well once he realized how much the therapy raised her spirits. Unfortunately, the episode just took far to long to develop any kind of conflict.
Homer's fascination with the "oogle goggles" occupied most of the first half, and the parody of the famous Google product was quite amusing ...at first. The joke began to wear thin after awhile. Eventually Homer stumbled upon the video feed and the evening's real story came to light.
It took awhile to get there and while the resolution was sweet, there wasn't much tension or humor in the story. There were some pretty funny The Simpsons quotes, though!
Do you think Marge should have told Homer about her therapy?