The Good Wife Review: Just Making a Point
Carissa Pavlica at . Updated at .
Did anyone else scream out loud at their television set while watching The Good Wife Season 5 Episode 12? 
It was sometime during musical juries when the two sets were being rotated in and out about every three minutes, just before the opposing counsel objected. When Judge Spencer asked why, counsel hung his head and said, "I don't know, sir. Because?"
I was right beside him the entire way. 
I can only hope that we reached the end of the theatrical farces that have come to be known as trials on The Good Wife with the disgrace that befell one poor couple represented duly by Florrick/Agos and Lockhart/Gardner.
Even when sharing information was in the best interest of both of their clients, and the prosecution rested their elbows on the other side of the aisle, there was still very little in the way of reciprocity and too much arguing.
When Will and Alicia witnessed two jury members -- one from each jury -- speaking in the hallway and Alicia brought it to the attention of the judge, Will flat out lied about seeing it with her.
Kalinda made an overture of friendship toward Cary shortly after Will asked her to get anything she could on the Florrick/Agos client. Cary set Kalinda up in the way I set up my nosy neighbor as a pre-teen, and Kalinda took the bait, painting the firm in an embarrassing light. I was proud of Cary for not trusting Kalinda, but not so sure he was later right to do it a second time. Perhaps they both have their guards up now. Not the best case for friendship.
There is nothing fun, cute or remotely interesting about who these people have become. Nobody trusts anyone. People are lying and covering up lies with even bigger ones, sometimes for unknown reasons. Whatever was left between Alicia and Will is gone. 
Somehow, and this is beyond me, Marilyn became the only character making any sense and worthy of understanding. She was honestly trying to bring the ballot box case to a close, but there was so much garbage she had to wade through to get to the truth and so many barriers being put up in front of her that she was unable to to do her job.
Eli was working with Marilyn, although the way he treated his underling wasn't all that admirable. Everybody is always looking out for number one. Even Eli admitted that his rather straightforward manner could possibly be misconstrued by someone in the heat of the moment. And that's how it went. But, his man has his back. That's admirable.
It looked as if Peter might have known about the video and what was on it, and he did have more information than he let on. Will told Peter that he had video evidence that he could lose the election, but Peter refused to see the video. Will also said he would testify that 30,000 votes were fraudulent. It was a flat out lie. When Peter asked why he would say that, Will asked how he remembered taking back Diane's judgeship.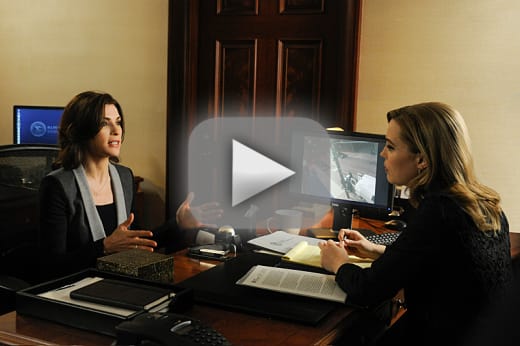 (*Update: thanks to Guest below, I know it was not a lie. It was worse. Will did tell Peter about the votes and Peter also told Will to own the decision. Whatever decision he made was made by Will alone and therefore Peter's hands were as clean as they could be in the situation. Will wanted Peter to win and kept the secret. Which was better? Much like the attorney said to the judge, I don't know. If it looks like crap and it smells like crap, it's still crap, no matter whose hands it's on.)
Will told Peter he was just making a point, but Peter knew the point was that Will wouldn't hesitate to bring it up should he try to use Will's testimony in conjunction with the ethics case about the ballot box. Peter was unable to relinquish attorney/client privilege and Marilyn couldn't come to a conclusion. They are very close to being investigated by the feds, and that means Zach testifying to what he saw with the other box. Alicia will be very unhappy, and the irony is that both of her lovers are at fault.
One thing is for certain, Alicia has a type. Unethical. Alicia needs to get a new type. She needs to kick the trash to the curb and start hanging with a new crowd before she is lost forever, if it's not already too later after learning so much from such great mentors.
This episode featured the music of Bruce Springsteen from his new album, "High Hopes." Did anyone hear inspirational music? Perhaps it wasn't the best showcase to release his new songs, because I will forever remember them in conjunction with this:
It doesn't matter. Peter is in real trouble, Eli. He's in trouble for one reason. Will Gardner.

Marilyn
What character came off shining brightly on "We, The Juries?"
Carissa Pavlica is the managing editor and a staff writer for TV Fanatic. She's a member of the Critic's Choice Association, enjoys mentoring writers, cats, and passionately discussing the nuances of television and film. Follow her on Twitter and email her here at TV Fanatic.