The Blacklist Review: Who is the Mole?

Sean McKenna at . Updated at .
After The Blacklist Season 1 Episode 10 concluded the entertainingly intense two-part mid-season finale, it was no surprise that The Blacklist Season 1 Episode 11 took some time to slow things down and get a little personal.

That's not to say there wasn't plenty of blood, death and deceit - but it was more of an hour that felt like a transitional phase with the standard case of the week.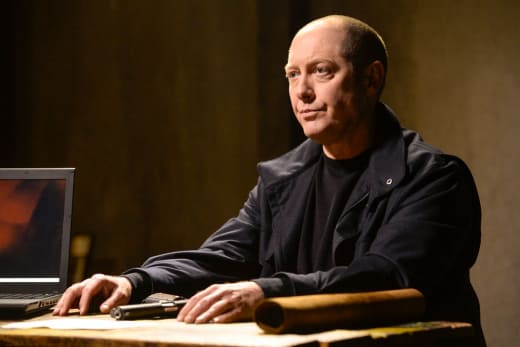 The premise of "The Good Samaritan" as a character is an interesting one: A man once abused by his mother, doling out the exact same pain and punishment to those who hurt their own family. He never quite killed them, simply leaving them on the brink of death instead. Such a nice guy.
It was good that viewers were able to initially question his motives, his reasons for not just killing them and slowly learn of his past.
He's hurting people who hurt others. Is that a type of vigilantism we can root for? Heck, a show like Dexter explored that concept for multiple seasons.
And while it was a case close to Liz (one of his victims died in her arms) and it tried to explore those moral questions, that aspect of the hour ended up feeling like typical case of the week fare. We all know the Good Samaritan was going to die or be captured by the end of the episode in last minute fashion. Can you imagine if a Blacklister lasted longer than a couple episodes?
Really, it came as no surprise that the best moments involved any scene with Red.
James Spader plays that character with such command that it can be tough for anyone and anything around him to compete for screen presence. And he continues to do so week after week.
But we were reminded that despite his charisma, humor and charm, Red is a killer; one who doesn't like to be played the fool.
He was ruthless and cunning, weeding out anything that got in his way and uncovering the clues to find the source of the leak. He's got some scores to settle.
From his meeting in the restaurant and shooting the man because he "couldn't take the suspense," to assembling his weapon as a timer before he would shoot alleged mole Aram (really glad it wasn't him), to shooting the banker for a name but having to raincheck on the stroganoff... Red made those scenes tense, dangerous and entertaining.
It keeps his character interesting, and frankly, the more Spader gets to chew scenery, the better. He really does make this show.
I was a bit surprised the mole was revealed by the end of the episode - and that it was none other than Skinny Pete, I mean, Newton Phillips.
Although, when he appeared on the misty covered rocks at the end to see Red, I almost forgot who the character even was. I do wish we perhaps had more time with Newton so the uncovering would feel like the same huge betrayal for me as it did for Red.
That said, the show's masterful use of music came through again in that tragic death, and I couldn't help but be reminded of Breaking Bad Season 5 Episode 16 finale promos that used the same song, "Line of Fire" by Junip. It was a rather fitting moment with a haunting melody that played over the scene.
Poor Newton, threatened by Alan Alda's group, who - surprise, surprise - is connected to the government. I hope we continue to see his character as I think he's a good and worthy adversary for Red.
It may be fun to watch Red gain the upper hand and know every detail before everyone else, but it's also nice to see that there is someone out there that poses a real threat and match for him.
I'm still wary of Tom, though. I mean, who doesn't tell their wife about a job interview in Nebraska that happens to have you fly out for it that afternoon? Way too suspicious, especially if the couple didn't talk about the job or the possibility of moving. Does he really think that if he gets it, Liz will move? Or is the job interview not really a job interview at all and something more covert and mysterious?
Either way, I'm sure Red will put Liz on the trail. After all, their finally back together and ready to move on to the next chapter. I wonder what aptly nicknamed member of the Blacklist will come up next?
What do you think? Is Tom really just a mild-mannerd teacher or is he someone Liz shouldn't trust?
Sean McKenna was a TV Fanatic Staff Writer. He retired in May of 2017. Follow him on Twitter.