While the were-coyote got closer and closer to danger on Teen Wolf Season 3 Episode 14, Scott, Allison and Stiles pushed themselves to their limits to be the heroes their friends know them to be.
And, perhaps, close the doors that are still open in their minds in the process.
How many were-animals are we going to run into this season? The Kitsune myth is supposed to be a were-fox, and Melia was a were-coyote. Who knew there were so many? My sister has half Yorkshire Terrier half Toy Fox Terrier; on the next full moon maybe I should be on the lookout for a were-YorkToyFoxTerrier. I could dig it.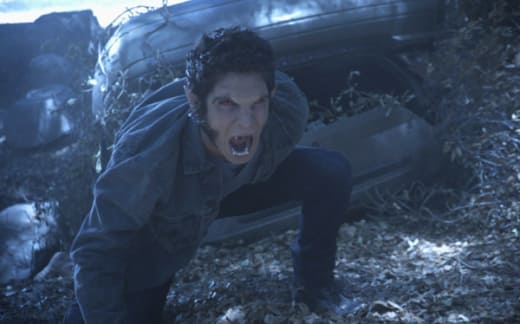 The way in which each person met and addressed his/her fear was interesting, especially since it had to be organic. There wasn't a magical cure, as Scott learned when the twins tries to help. It was honorable that they made the attempt, and even more when one twin stopped the other from helping too much. They've come a long way since we first met them.
For Scott, his fear of changing and not being able to control it was only conquered when he knew the importance of bringing the girl (Melia) back out of the were-coyote. First Stiles realized what she was doing; taking the baby doll back to car accident as a memorial to her young sister. If that wasn't enough to bring a tear to your eye, then you're pretty damn dried up inside. 
Their father was hurting and wanted to take out his pain on the coyote just because he could, but Melia had been lost for eight years, with only the accident site to connect her to the life she lost. The idea was so terribly sad, compounded only when I thought what she must be thinking when she saw her daddy pointing a gun at her.
Scott pushed beyond his fear and met Melia at the site in wolf form (or partially, anyway) but Alpha enough to roar her back into human form. Imagine having that kind of power as a teenager. Go Teen Wolf! I wonder if Melia will become a character we see around more often. After all, she has to be pretty damn confused about what has happened for the last eight years, and fitting in will be difficult. I'd like that.
Allison overcame her inability to shoot when Melia's father was taking aim at her. It was either shoot straight and tranq him or allow him to kill his daughter. Allison's logical brain is much stronger than her fear of becoming a killer like her aunt. She also had Isaac at her side, gently talking her through it, soothing her with his steady voice. 
Finally, Stiles was faced with Lydia caught in a trap. She asked him to read the directions and he couldn't. Lydia said he didn't need to read, he was always the one who figured everything out and he would figure this out, too. Stiles always believes in Lydia's faith in him.
We all get filled with self-doubt now and again, but send us into the place between life and death and forget to close the door and those thoughts will consume us. I really liked the positive lessons that came out of the traumatic experiences they suffered. There was something overall warm and fuzzy about what they learned about themselves.
Meanwhile, Motorcycle Girl was hired to find Derek by Deucalion. Who saw that coming? There wasn't much to the story of he and Peter's rescue other than Derek wouldn't leave without "it." It was some candle shaped thing hidden in some sort of ash that they couldn't touch that when removed from it's casing brought the Nemeton to life, sent fireflies out of it (what is with the fireflies this year?!) and then... what? I guess we'll find out.
The outliers are that Kira experienced the were-coyote and was, again, humiliated by her dad. That dude has some horrific timing. Stiles was on fire trying to humiliate Isaac (What's with the scarf? It's 65 degrees.) and Agent McCall is still pitter pattering behind Sheriff Stilinski just to annoy viewers so that when he finds out about his son we can laugh at him.
I'd have to disagree with the title of this hour, as I think there was a lot more good than bad here.
Do you think the doors to the minds of Scott, Allison and Stiles are closed for good?
Carissa Pavlica is the managing editor and a staff writer and critic for TV Fanatic. She's a member of the Critic's Choice Association, enjoys mentoring writers, cats, and passionately discussing the nuances of television and film. Follow her on Twitter and email her here at TV Fanatic.