TROUT IS OUT!
Finally, his reign of terror has ended. But it begs the question: Will we have an interim-interim Chief? Or are we staring down the barrel of Karen Vick's triumphant return?
Another week, another moment for our favorite crew to demonstrate that they're Santa Barbara's finest - and, boy, did they deliver!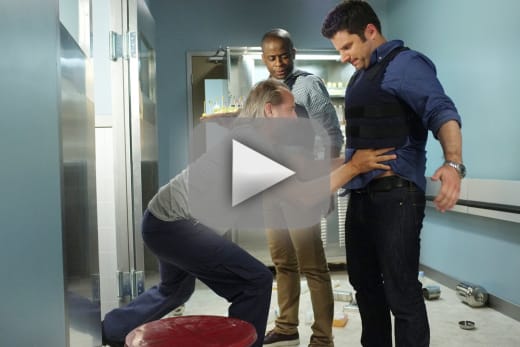 While it wasn't as exciting as their trek to London, and not quite the caliber of the remake, Psych Season 8 Episode 4 was a great filler installment that allowed us to bring in the ever amazing Kurt Fuller, who has only appeared in this and the previous outing.
Shawn and Gus are clearly starting to hurt over their lack of cases; it will only be a matter of time before they are unable to pay the bills to keep their office open. Hopefully things will start to turn around now that Trout is out of the picture.
What I probably enjoyed most about this episode was how Trout's behavior made everyone else around him seem sane. He really did just suddenly lose it this episode, reminiscent of Lassiter's former days as a trigger-happy dead detective.
What are the chances he gets to reclaim this title and Juliet temporarily steps up in the interim-interim Chief position? Or, better yet, that Lassiter may end up head honcho?
Before I get too ahead of myself, Fuller's performance deserves some legit recognition. It's always great to get some time to focus on Woody, but it's even better when you see the other characters react to him as another one of the team.
Juliet stepped out in a big way, pretending to be his daughter to get in the room, and while the outcome was questionable, the sentiment was great. In fact, I would have liked to see a little bit more of that had it been appropriate, along with a little bit of Shawn freaking out over his love being held hostage.
Overall it was a good time with some priceless Psych nuggets as only this cast could deliver them!
What do you think, Psych-O's? Who will be the new head honcho?
C. Charles is a TV Fanatic Staff Writer. Follow her on Twitter.