Parks and Recreation Review: Please Romaine Calm
Lisa Palmer at . Updated at .
Sometimes the best moments in an episode of this series are the small ones.
Case in point: on Parks and Recreation Season 6 Episode 12, Ron's excitement over an iPod was simply amazing. When a show gets to the point where we know the characters in and out but are still surprised and delighted by them, you've got a winning seris. 
But this episode's MVP goes to Andy, whose songs were directly descended from none other than Friends' Phoebe Buffet!
When he started singing about smelly feet, I couldn't help but hear Phoebe singing "Smelly Cat." And remember that episode where Phoebe was asked to sing to kids? Granted, her songs were more adult themed and inappropriate, but the lyrics were quirky; both Phoebe and Andy have hearts of gold.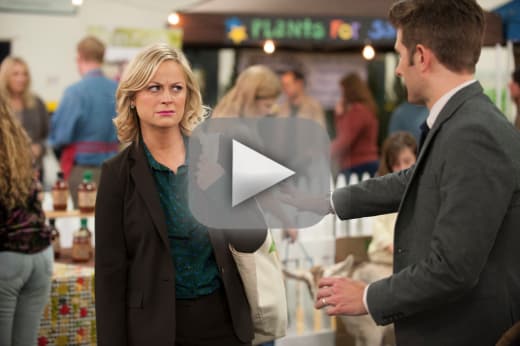 But what about April? This episode really examined how supportive of a partner she is to Andy. She pushed him and was proud of him and encouraging of a new career path.
Yet I do recall April having ambitions of becoming a vet. The last episode that addressed that seems like a long time ago. She didn't want to go the university she applied to because she had a terrible feeling about it. I'd hate to see her character's career aspirations not be brought up again.
Luckily, this series has taught me to trust the creators. I have no doubt her ambitions still exist.
While the Ben and Leslie aspect of this episode was funny at times, I do feel like it's somewhat recycled territory. However, I loved mean Ann! Complain-y, annoyed Ann seemed real and authentic! And Chris? He really does seem like the most positive human on earth, but even he can learn that sometimes too much positivity can be a bad thing. 
Overall, another great week of Parks. And did you hear? It's got a season seven for us to salivate over! Nice to know we've got plenty of time to see the lives of these characters continue to blossom. 
So, do we think Andy's career as a singer at kid's parties is actually going to work for him?