Finally.
On Downton Abbey Season 4 Episode 3 - after wading through three fairly depressing hours of this season - we have an hour we can, well, make light of a bit.
And, dammit, we deserve it. Things were getting a bit out of hand with the depression, and this week even Lady Mary waded out of her loss of Matthew. We still have to deal with Anna, and I have a feeling things are going to slide down the crapper for Edith, but not so badly that they can't take a little poking and jabbing.
To that end, I'm also pulling my 1920s lingo dictionary to pepper the review with fun words. Because I can.
It's just a little over 6 months since Matthew died and Mary has already gotten another marriage proposal. Sometimes Mary seems like the bee's knees. Twice in this hour alone I was reminded of how she lost her virginity (to some random bimbo who had the audacity to die just afterward). We'll talk about that more in depth shortly. Other times she can seem like a "Mrs. Grundy," very tightly strung, and I wonder how all of these men fall for her.
Of the three ladies of the house, Mary never struck me as the one who would pull in the most suitors, but that's certainly been the case. Granted, Sybil fell for Tom right quick and Edith was left with so little confidence she was barely noticeable. Still, what a life Mary has lead. Lord Gillingham wasn't fooling around, either. The words he spoke to her were extraordinary.
I'll never love again as I love you in this moment, and I must have something to remember.

Gillingham
Can you imagine someone speaking to you like that after such a short time spent together? Anthony was already pre-engaged to someone else, and he and Mary hadn't seen each other since childhood, yet he was so in love he was certain he'd never love like that again. At least Mary had the good sense to realize she probably made a grave error in turning him down.
It seems like Tom is quite the pushover when he's had too much to drink, because despite the fact that Edna gives us the heebie jeebies, he definitely slept with her after the house party on Downton Abbey Season 4 Episode 2. Tom's near discussion about it with Mary was one of the times I was reminded of her sexual liaison gone wrong. She encouraged him to talk about it, and he did -- to Mrs. Hughes. 
Mrs. Hughes was pretty good at wrangling out of Edna that she was nothing more than a gold digger framing Tom for marriage. Honestly, I didn't like how easily he sloughed her off with his "it doesn't happen that easily" comment about pregnancy, but I also felt for him that Edna was even allowed back in the house. 
I wonder who Thomas has in store as a recommendation for a replacement. Honestly, I was just shocked to learn he had any friends outside of the house. Who knew?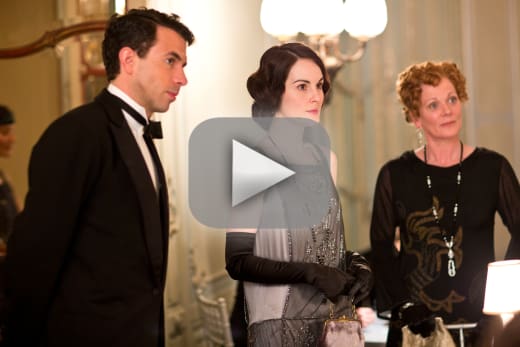 Anna is having quite the difficult time after her rape, as anyone would, but her decision to keep Bates out of it is so painful to watch. Another man who loves his woman so deeply, and yet she seems to have no idea to what lengths. I think if she would have Mrs. Hughes help out by starting a conversation saying "she's not telling you because she is afraid you will kill someone. If you love her as much as you say you do, then you must do what is right for her, not because of what happened to her," Bates would be able to do the right thing by Anna.
When Bates told Robert that whatever is wrong in their marriage is obviously his fault because Anna is incapable of fault, my heart broke. This is another situation where Mary's past would come in handy. Mary tried to reach out to Anna, but Anna didn't take the bait.
When Mary found herself sullied and with a dead dude in her bed, it was to Anna that she turned. They may be master and servant (ewww, I don't like those terms, but you get it), but they have been through so much together. On that night, I think it bound them in a way that cannot be broken and if there is anyone Anna can trust with her problem, it's Mary. It's such a shame that Anna doesn't see all of the people nearby that can be of help.
While the gang was in London at the swanky restaurant and club listening to the new jazz man play, Rose's date decided to upchuck while they were dancing and Jazz Man Jack Ross came to her rescue. The sweet smell of illicit romance is in the air, isn't it? Why not? It's already all over her cousin Edith.
Gregson is preparing to get off to Munich (where the entire world dares not go after WWI) to get his divorce. Apparently it's going to take a long time if he thinks he will have time to write an entire novel while there. I'm thinking if they had color-coded travel alerts, they would probably have a red one for European travelers to the region, don't you? How safe is his trip going to be?
To prove to Edith that everything is on the up and up, Gregson has her sign some papers giving her control over his affairs. To what end or how much, we don't know. It's a nice idea though, and it makes you wonder what's going to happen while he's gone because they decide to stay in that night, start necking (making out to those of you unfamiliar with the slang) and the next thing you know, Rosamund is acting the part of a wet blanket and spoiling all the fun when Edith arrives back at the house at 6am.
Whatever did they do all night? Did Edith take a page out of Mary's handbook and lose a little something over at Gregson's? Did she have Edna's book on how not to get pregnant as a result? So many tips and clues were dropped that it's impossible to expect her not to be preggers shortly.
While the older set seems to bemoan how things are changing (worries that they might not find staff at the ready and how frequently people are not properly dressed for dinner are topping the list of complaints) with a steady reminder to viewers using the phrase, "not these days," the younger set it taking in the world and all that it offers with gusto. Change is inevitable, my friends.
The season just started and it feels like it's already setting itself up for an ending! If you've missed any of the episodes so far, be sure to watch Downton Abbey online by clicking the hyperlink!
Do you think Edith will get pregnant?
Carissa Pavlica is the managing editor and a staff writer and critic for TV Fanatic. She's a member of the Critic's Choice Association, enjoys mentoring writers, cats, and passionately discussing the nuances of television and film. Follow her on Twitter and email her here at TV Fanatic.