Cougar Town Review: Slip and Fall
Nick McHatton at . Updated at .
The cul-de-sac crew is back for another bottle of wine! 
Cougar Town Season 5 Episode 1 opened up close to where we left last left the series, quickly dealing with the biggest issue on the table: Laurie and Travis.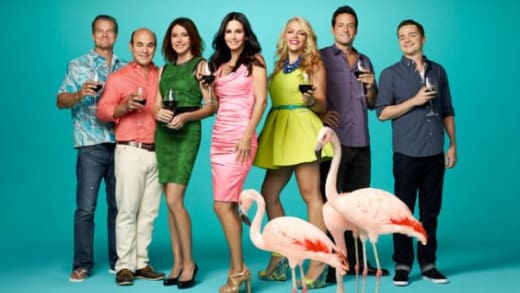 Cougar Town poked fun at itself, and traditional television tropes, with Grayson commenting that, while weird, Laurie and Travis had such a long buildup they just need to let them play it out now.
It was an homage to the dance Jules and Grayson did prior and now it's time to give Laurie and Travis that same courtesy. No matter the outcome, Cougar Town Season 5 is willing to let it play out - weirdness and all.
Ellie's "aww-bleh!" reaction sound to Laurie and Travis summed up rather succinctly their burgeoning relationship. Laurie and Travis both being in love and happy in the first few days and weeks of their relationship, getting to explore each other in shower, and having to deal with the initial Jules assault was comforting and adorable.
Yet that same honeymoon-esque phase that they find themselves in is what can bring about some cringe-worthy moments. Just as Ellie predicted with the "bleh" part of her sound. But, at this point, there's no reason to question Ellie's wisdom.
Jules being the first victim in an unfortunate gag of slippery honkers and "that wasn't a towel rack" shower fall of the relationship is par for the course at this point. It's hilarious, a little raunchy, and only sets Jules on a path that ends up using her slightly narcissistic personality for endearing good.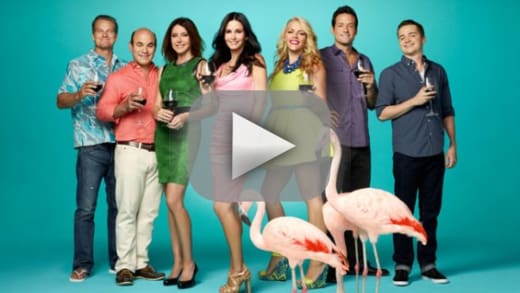 Jules, and her personality, is what binds this band of people, and the relationship is never fully welcomed until the mother hen approves of it. It's taken Jules some time to adjust, but she wants her family to be happy. She goes about it in a very Jules-like way, but with a little (sane) advice from Ellie she powers through the awkwardness to sanction the relationship.
The side plots with Grayson and Bobby, and Andy, Stan, and Freddy Krueger weren't created equally. Grayson and Bobby's was the stronger of the two with the roundabout way of expressing what is really bugging them about the money (or lack thereof).
It was another indication of how far they've come. Grayson never really cared about the money, he just poured those beers for Bobby because he knew he was poor and he was just looking for a thank you from Bobby.
Conversely, Bobby sees the best in people at all times and never imagines that a friend and family member would want money for the free drinks. It's funny, but it continues Cougar Town's unabashed willingness to keep its heart and soul front and center.
Stan, Andy and Freddy Krueger was mostly forgettable. It was used as a reminder that Stan still exists with the cul-de-sac.
Hard hitting question: should Daft Punk perform a song called Naked Sexy Touchy Grabby?