Community Review: Fat Dog for Midterms

Gabrielle Moss at . Updated at .
For their first Troy-less episode, Community pulled out all the stops.
And by "pull out all the stops," I mostly mean "put Castle in a custodial suit."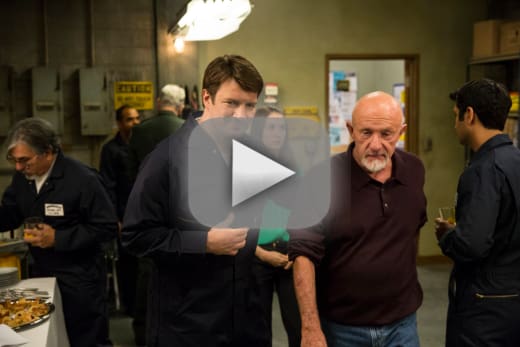 But hey, that's nothing to sneeze at! Even though Community Season 5 Episode 6 wasn't the most enthralling episode of Community Season 5, the half hour was a solid piece of Greendale weirdness, which would have succeeded without any guest spots at all.
Speaking of those guest spots: Fillion's was one of half a dozen, ranging from Franklin & Bash's Kumail Nanjiani, all the way to T-1000 himself (Mr. Robert Patrick, for you non-Terminator-loving heathens out there), each on screen for only a few moments. What was the point in pulling out so many big names (okay, one big name and a bunch of medium names) for the briefest of cameos?
Was it a vote of confidence in the future of Community, in absence of its most popular actor, if not most popular character?
Or was it fear that a Donald Glover-less show couldn't hold viewer interest without stunt casting, gimmicks and Paget Brewster?
I hope the former, but honestly have no idea. It was a little distracting, a little strange and hopefully just another slice of weirdness stuck in their to make the world of Greendale feel even more off-kilter, rather than a desperate bid for estranged Criminal Minds fans.
But I do have one pretty clear idea: I am positive that this episode was conceived as something of a re-write of Community Season 4 Episode 8, a.k.a. "The Sophie B. Hawkins Dance" a.k.a. the "gas leak year" episode that finally broke me.
Community Season 5 has been all about righting a lot of Community Season 4's wrongs, as if they were crimes they committed while sleep-walking, and this seems the clearest example yet.
From the re-appearance of Brie Larson's Rachel, to the comically bad premise for a dance, this was everything that that Community Season 4 episode wasn't: clever, packed with off-the-cuff brilliant Community quotes, and very aware of the absurdity of a bunch of people in their 30's and 40's attending a school dance.
This episode was also the first to truly sell me on Jonathan Banks's Buzz Hickey. Hickey is certainly a tonal jump from Troy, but he fits into the group dynamic better than I had expected, and it much more than the one-note joke I had initially thought him to be.
Hickey, along with the season's beefed-up role for John Oliver, may fill that Troy-shaped hole in our hearts with something much older and at least partially skeevier, but no less delightfully bizarre.
Also, if you didn't catch the news crawl on the bottom of the screen when Hickey was watching TV, it said "Levar Burton and non-celebrity companion captured by pirates in the Gulf of Mexico." So, it's not quite just happy trails for Troy... maybe that was not quite the copacetic send-off it looked in Community Season 5 Episode 5, after all.
But enough about pirates (just kidding, it is never enough about pirates)! Let's get to the important question:
Who was your favorite guest star in this guest star-filled episode?