Bones Review: Dance to the Music That's Playing

Carissa Pavlica at . Updated at .
This was another strong outing, but Bones Season 9 Episode 13 did that thing at the beginning where they try to make me vomit up my dinner.
This time, it even used the word vomit and showed vomit to make sure to ram the point straight to the stomach.
The best part of that (and there is a best part out of that disgusting sentiment) is Booth was eating while Brennan was talking about it, so they're fully aware of what they're doing to the audience.
It could only have been better if she had said she found some tongue in his cheek: 
Booth: I don't believe this.
Brennan: No it's true. I recovered a portion of them as I was scooping vomit out of the victim's eye socket.
Booth: Bones, remember that conversation we had about people trying to eat.
Brennan: Yes. Of course, yes. Well, I'm a little disappointed, because what will be our lunch conversation?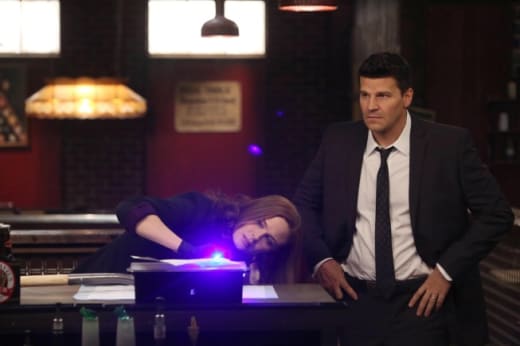 The murder was truly interesting, mainly because they made the victim seem kind and a bit put upon. As a musician who worked hard and yet only found out he was an international sensation days before he was killed, it made his story all the more compelling. 
Something else came to mind as I watched and as Sweets and Angela listened to the victim's music. They said they didn't like country, but something about his music was different. While the music wasn't typical country that non-country listeners think of, I also believe when someone passes you tend to hear or see their work differently. The fact that someone died opens your senses to their talents in a way you might not have been willing to listen or see them before. Just a theory of mine.
The other reason the case worked well was because of the way the bones on the victim were broken coincided with a broken bone suffered by intern Wendell Bray. He got it playing hockey with Booth and was pretty proud of it. Booth even had video of the exact moment the break happened.
Thank goodness he did, because Brennan immediately knew something was wrong and her motherly instincts kicked in (I like that new side of her) and she snooped, only to discover Wendell has a rare form of bone cancer.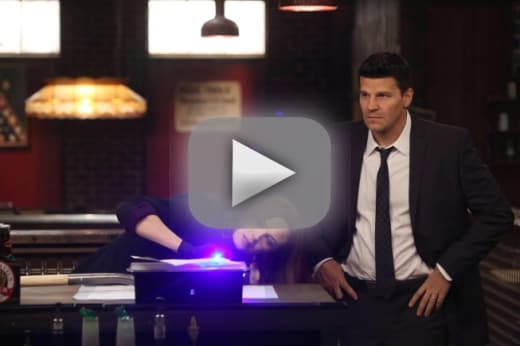 Between the life of the country singer who had apparently waited a lifetime to fall in love only to have his shot at happiness sabotaged and then his life snuffed and Wendell's horrible news, it was quite sobering.
I liked how Wendell took time to weigh the decision of chemotherapy, possible amputation or bone replacement and radiation all in an attempt to prolong his life for a cancer that has an extremely high mortality rate. He remembered his father and how his life was barely worth living at the end, but he had a life. Wendell's has only just begin.
Booth and Brennan wanted him to fight, but didn't want to persuade him one way or another, and being silent was difficult. I always enjoy their discussions about such weighty matters especially since they share such different views on God and the universe. 
Some devout Catholics would find it difficult to marry someone who does not believe in God, and I applaud Bones for showing the exception and not the rule. Together, they make sense of even the most difficult circumstances.
Brennan: I thought your belief in God gave you the sense that the universe had some kind of loving plan.
Booth: Well God tests us to see what we're made of so we can appreciate what we have.
Brennan: Well I can appreciate the universe without cancer.
As we've seen one intern turn serial killer and one die horribly, I wouldn't have been surprised if Wendell had chosen to drive off into the night to see the world while he was still well enough to enjoy it. We never know when our circumstances will change, which is why we should make the most of life while we can. It's sometimes much easier said than done.
Those wise little nuggets that come from Bones, like the title of this review, are what I love about the show. Sometimes, you just have to dance to the music that's playing.
What decision did you think Wendell would make?
Carissa Pavlica is the managing editor and a staff writer and critic for TV Fanatic. She's a member of the Critic's Choice Association, enjoys mentoring writers, conversing with cats, and passionately discussing the nuances of television and film with anyone who will listen. Follow her on Twitter and email her here at TV Fanatic.