The Vampire Diaries Review: Vampire Therapy
Leigh Raines at . Updated at .
In an episode full of PTSD, Panic Attacks, and miserable flashbacks, there's nothing like a little Katherine Pierce humor to lighten the mood.
The Vampire Diaries Season 5 Episode 9 was full of dark moments of the Salvatore brothers facing their own psychological issues.
I really need to give our Katerina props for her epic performances as of late. Whoever is writing for her character deserves a raise. I loved seeing her journal and say "Dear Diary." For a second I thought it was Elena until she said "this is total crap" and started making fun of Stefan.
Speaking of Katherine and Stefan, this whole doppleganger prophecy always had me a bit intrigued. As did the fact that Stefan saved Katherine in The Vampire Diaries season 5 episode 8. There has been such a tumultuous relationship between these two over hundreds of years. We even discussed their sexual tension in the last TVD Roundtable.
Nothing quite like being locked in close quarters to get things going, am I right? I think we all agree that Katherine needs one last great session in the sack before she dies. Well at least, I think so. Especially now that she helped save Stefan from his PTSD. Hey, can I hire her and Caroline to help me conquer my panic attacks? Vampire friends would be so useful!
So how do you help the guy who always comes to the rescue. Stefan's the hero; it's who he is at his core. He can't always come through for himself but he can always come through for everyone else.

Katherine
You have to love Caroline's little Psych 101 self, complete with the original Caroline Forbes personality. Don't worry guys, she had the safe sanitized! Did you believe all along that Stefan's true issue was his rejection from Elena? While I'm sure that was part of it, being locked underwater in a safe for 3 months would also definitely rattle a person...a lot.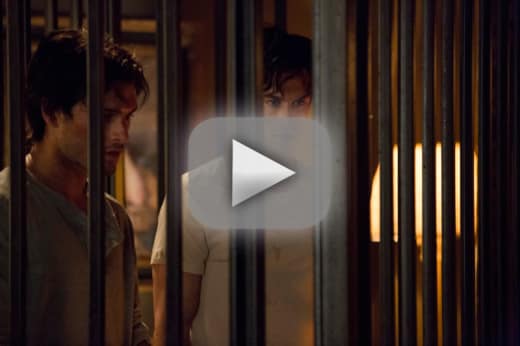 Elsewhere in this psych overload episode, Damon was reminiscing about his years locked up in Augustine. I was initially worried that this trip to an experimental and torture filled vampire camp would be too similar to True Blood season 6, but I'm pleased it actually went into a different direction. Now we know more about Aaron's background who up until now was kind of a floating player. We also got introduced to Enzo.
Let's not forget most of all, Damon shutting off his humanity and turning on his need for revenge. So many years of Damon personality study are now suddenly making sense. He wasn't just a douche to be a douche. Nor was his body due to science in anyway, but we already knew that.
When Damon left Enzo in the fire I knew it was not the end. As any fan of thrillers knows, until you see a body don't assume a death. And even then, they might come back. American Horror Story anyone?
Now that Elena knows Enzo's alive and that Damon's been killing Aaron's whole family, well Damon's screwed. Until next week when we see you back at vamp camp, hit the comments with your theories, comments, and thoughts!