The Simpsons Review: Nuclear Winter White

Teresa Lopez at . Updated at .
The Christmas Blues is right.
The Simpsons Christmas Specials have always been one of my favorites (along with the Treehouse of Horror), but tonight's episode was a disappointing, uneven, and (again!) overly familiar installment.
The Simpsons Season 25 Episode 8 begins with the dire news that global warming will lead to a national shortage on winter snow. Springfield lucks out, it seems, when snow begins to fall shortly before Christmas. Alas, the "snow" is the result of Springfield's above-average pollution.
On the surface, this was an interesting set-up for a Christmas special, but from there the episode gets really confused about its focus.
The town becomes a tourist destination overnight, and the Springfieldians respond by raising prices and gouging the out-of-towners. And it all seems very familiar. The same thing happened to all those Hollywood types when the Radioactive Man movie was filmed in Springfield. 
The consequence of all this price gouging is that Marge realizes she can't afford this more expensive Springfield Christmas and turns the Simpson house into a bed and breakfast. (Haven't the Simpson already turned their place into a hostel once before?).  The new endeavor proves to be too much and even Marge loses her patience.
Then, in a weird third act shift, Lisa feels inspired by Reverend Lovejoy's Christmas sermon to give meaningful presents this year. Except she sucks at it, and Bart points out that she didn't really know a thing about what her family members wanted... but what she wanted them to have.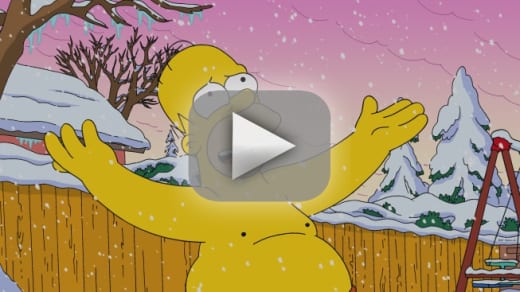 Eh...it was all pretty uninspiring and rambling. There also weren't many amazing The Simpsons quotes.
What did you think?