I feel like we did a lot of learning in Reign Season 1 Episode 7, guys. We learned that Olivia is an idiot, Greer is a bad-ass, and the previously benign-seeming Diane is actually way sneakier than anyone else in court.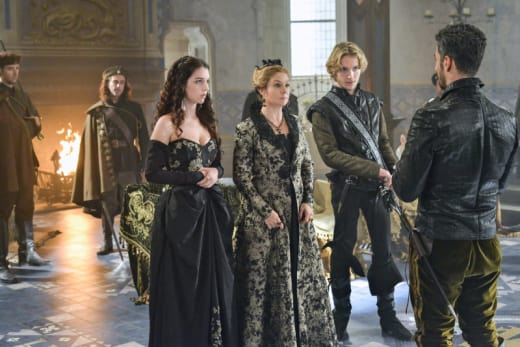 But more than anything, we learned that Catherine is one complicated lady. Is she a hero or a villain? Is she a campy, scenery-chewing, "Jessica Lange in American Horror Story: Coven"-style diva who gets all the best Reign quotes? Or is she a dignified survivor of a horrific childhood, trying to find control any way that she can? Is she a fiercely protective mother just trying to give her son a better life than she had? Or is she a crazy lady who poisons gold, a thing that I did not even know was possible??
The thrilling answer to all of these questions is: yes! And I appreciated this hour as a chance to get in deep with Catherine, who prior to this episode, was more of a looming, Maleficent-ish threat than an actual person. I mean, she's still a loon who swans around making awful (and awesomely bitchy) pronouncements, but I enjoyed finding out how she got that way (short answer: some baaaaaad stuff).
Far from the annoying distraction who seemed a mere plot vehicle in Reign Season 1 Episode 1, Catherine is actually developing into an enormous dramatic asset to this show--and may bloom into one of the most exciting conflicted characters in fall's new dramas.
And in many ways, her story right now is more compelling than that of any of the young, beautiful folks in this castle.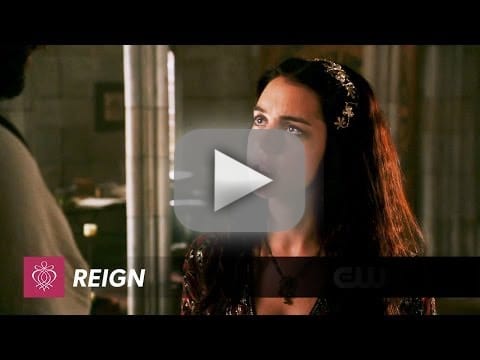 But in all the other ways, this is still Mary's show. And Mary and Francis's plot arc was still the most revved-up, energetic, and, well, brutal. To paraphrase the great film Heathers, Mary and Francis's teen angst definitely has a body count--and this episode was the bloodiest yet, with woundings and full-on murders by Francis, Mary, and Greer. While there wasn't as much depth here, I appreciated that everyone got in on the gore--Greer, I didn't know you had it in ya! I think I have a new favorite Lady.
As Reign comes into its own, the episodes still do veer back and forth tonally, and there has not yet been one that finds the perfect balance between dramatic love plots and dashing adventure/ violence. But I fully trust that it's on its way--Reign is already TV's frothiest mix of sex, murder, teen longing, and cloaks, and I think it is just a matter of time before it claims its throne as one of the best soaps around.
Official Reign FashionWatch: 7/10, but only because you don't get to do that many outfit changes when people are trying to murder you. I will admit that the dress Mary wore to the feast did look like a classy Golden Globes gown. But I guess that when you're a queen, every day is like the Golden Globes? (Sorry, that was the most depressing description of royal life ever committed to paper/ internet)
Do you think Mary and Francis are back together for good? Do you think Bash has a chance of legitimacy? Are you going to be suspicious of all your coins for the next few days?