Astoundashing.
It truly is the only way to describe Psych the Musical.
It was every Psych fan's dream: Music, mayhem and murder, all wrapped into 14 examples of musical excellence only Psych could supply - and all in the key of awesome.
I cannot say enough about the talent of this cast. They can sing, dance, act and do it together as if they'd been practicing for years. In many ways this is true, as we know from our much beloved Psych-Outs from earlier seasons that this cast made it a habit to exercise their pipes to classic tunes.
This songfest, however, was beyond all expectations.
Steve Franks and Adam Cohen, the genius pair behind the music and lyrics of this work of art, deserve much credit for what will no doubt be a bestselling soundtrack on iTunes once it's released. The songs were catchy, cheeky and so true of Psych. My personal favorite track has to be "Santa Barbara Skies" and its reprisals.
It was only made better being layered on top a very clever plot, which found a paranoid and institutionalized playwright, Zachary Wallace Zander or "Z," roaming the streets of Santa Barbara on a killing spree. Yet, in true Psych fashion, not everything was as it seemed.
How crazy was it that Z confided in Yang? We knew she was going to be part of the musical, a tidbit Dule Hill accidentally spilled way back when they filmed the episode in October 2012.
I just didn't expect her participation to have such heartbreaking results.
I wanted to avoid talking about Yang's passing this early, but part of me is still shocked that it happened for several reasons, not the least of which the fact that Mary was the angel she saw on the other.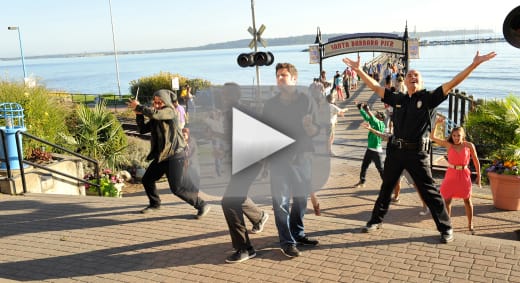 If I had been in the crying mood, that would have been enough to have me bawling. It's been a long time since we lost Mary, which was plenty of reason not to expect to ever see him again. The fact the two shared a song was rather brilliant, and the fact Mary was clad in racquetball attire utterly mind-blowing.
Did anyone else find it ironic that Yang not only died in the same way that Mary died: both stabbed and with Shawn and Gus at her side, too late to do anything to save her - but that it was also at the hands of a masked and capped serial killer? Too much of an homage, guys! At least in the end she finally got her ballad...
This whole musical thing was a part of Shawn and Gus's imagination, so maybe Yang really didn't see Mary when she died and that's simply something Shawn came up with as part of his rather morbid musical pitch. Then again, she really did die.
There is no question the whole thing was brilliant, but I do have to say that I'm a little disappointed there wasn't a little more reverence over Yang's death. Her presence as a character and everything that came with her was a real turning point for these characters over the seasons, so her death was a little bit more profound in my mind as a result.
It was very much the end of an era, and in some ways echoed of the uncertain future of Psych. You don't kill off your most infamous villain lightly, but when your show has an uncertain future you do yourself a favor by taking parts of the plot into your own hands.
Now that all of that is out of my system, I can at least remember all of the fun times we shared with her. Shawn coddling and protecting her at every turn was kind of entertaining. If she wanted a song or an antic in exchange for a piece of information, Shawn did it and made sure everyone else got in on it with him if necessary.
We really hadn't gotten a taste of that kind of thing in previous episodes she's been part of so it was pretty great to see.
One person who wasn't getting coddled at all was Gus, which isn't anything new. What was kind of new - but nonetheless entertaining - was his obsession with getting a role in anything that might have an audience, including the play he was actively investigating. Jamaican Inspector Man did finally get his day, though, and will forever be immortalized on the soundtrack.
Some other fun bits from this special:
Shawn's British accent. So.Not.Happening.
Henry's refusal to sing or really take part in the musical at all.
Seeing Lassie and Shawn put their ongoing feud over methods to song.
The Chief in all her Chiefly glory. Given what took place in Season 7 Episode 14, which actually takes place after the musical sequentially, we know that won't be the case when the show returns for Season 8.
Shawn doing the "Bend and Stretch" routine from Season 1 Episode 5. 
The fact that the episodes were narrated like a fairytale at their outset.
Shawn sweeping - in an apron - in the episodes' opening scene. We should have known something was up from the beginning...in what world does Shawn Spencer do chores?!
And with that, we are officially at the end of Psych Season 7, and I will never be able to look at Santa Barbara skies the same way again.
C. Charles is a TV Fanatic Staff Writer. Follow her on Twitter.