Nikita Series Finale Review: Freedom

Carla Day at . Updated at .
Goodbye, Nikita! 
It was much too soon for Nikita to end, but at least the series had a proper and fitting conclusion. With Ryan's death in the penultimate episode, the series was able to finish with a hopeful and happy ending.
Division and the United States created Nikita the Assassin and that Nikita returned to avenge Ryan's death ... at least that's what appeared to be happening. I totally and completely bought into the narrative that Nikita and Alex partnered up to take out the Group in Nikita Season 4 Episode 6.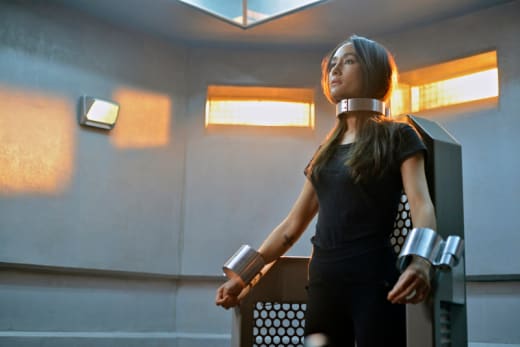 I never saw the twist coming, did you? Team Nikita was able to pull off an amazing ruse in order to beat Amanda at her own game. Before Ryan's death, I'm not sure I would have believed that Nikita would turn so dark or that Alex would go along with it. 
After all that Amanda had done over the years, I found it plausible that Nikita would turn against those that were responsible for both Ryan's death and the plot to start a devastating war. As believable as it was, I was beyond thrilled to find out that Nikita hadn't lost herself and instead took extreme measures to take out her foes.
As the flashbacks to Nikita's induction at Division unfolded, it seemed oddly placed to tell that story in the series finale. By the end of the hour, it all made sense. Amanda believed that Nikita reverted to her former self and hadn't changed at all. Nikita's troubled start at Division, Amanda's ego led her to believe what she was witnessing.
Amanda's words came back to haunt her, "Deception is more important than brute force."
The faked death at the retreat was outstanding. It fooled everyone and that was the moment that Nikita's plan moved into high gear. While Nikita and Alex played their parts on the inside, the guys worked it from the outside.
The shifting allegiances within Team Nikita was amazing to watch unravel. It moved so quickly that it was difficult to know which side was right and which was wrong. It appeared the series was going to end with a fractured team. 
The fight between Nikita and Alex was epic! It was awesome and they sold it. What a ruse! Out of all the twists on television, this was by far one of the best orchestrated this year. It was effective because it wasn't done solely to trick the audience, it was all about capturing Amanda.
Hook. Line. Sinker. Amanda's arrogance brought her down. She never saw her demise coming. When Ryan didn't shoot her in Nikita season 4 episode 5, I was disappointed, though it wasn't in his character to kill an unconscious person ... even Amanda.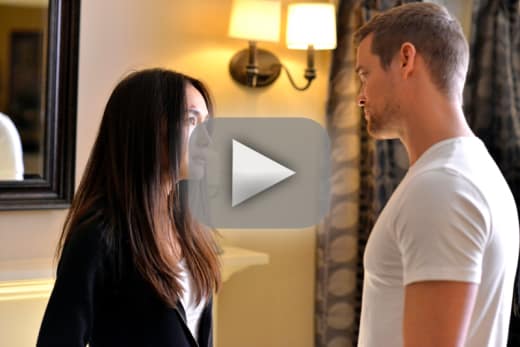 Death would have been too good a punishment for her. She will live out the rest of her days locked up and alone, "No one will ever find you. Welcome back to the basement, Helen." That's a much more fitting end for her. Perfect in fact. Her ending was as miserable as Team Nikita's was satisfying.
Amanda was captured, the doubles were taken out of play and the real doppelgangers were freed. Their plan was a success. And that wasn't the best part of it. Nikita's family finally found their freedom. Alex embraced her true identity as Alexandra Udinov. Sam found a fitting job protecting Alex. And Birkhoff revealed himself to the world. 
It was nice to see Ryan again, even if only as a vision. Nikita came to terms with his death and it wasn't in vain. Ryan provided the key intelligence the team needed to successfully pull of their plan. 
Even Michael and Nikita found their happily ever after. They were married, headed to the beach, and used their honeymoon to help those in need. Perfect!
"The real gift isn't freedom. It's what we get to do with it."
Were you satisfied with the series finale? Did you get fooled by Team Nikita's ruse? Will Nikita and Michael live happily ever after?
Carla Day is a staff writer for TV Fanatic. Follow her on Twitter and on Google+.