Nikita Review: No More Secrets

Carla Day at . Updated at .
Is a happy ending possible for Team Nikita? Not entirely, at least.
The opening sequence of Nikita Season 4 Episode 5 was eerie. It was like Nikita woke up in Pleasantville with lingerie on.
It really was a dream and not the good kind that Michael suggested. It was a fleeting bubble of normalcy for Nikita and Michael, it's just too bad it couldn't last longer.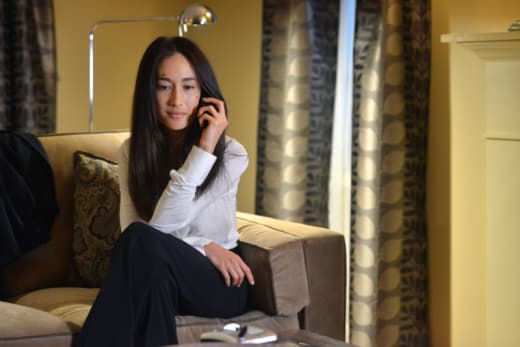 As odd as it was for them to be staying in houses on a cult de sac, it was even weirder to see them living in separate houses. Nikita and her team have lived together for years. They are a family. When Nikita rang Ryan's doorbell, it seemed wrong and made me laugh. Though, that's normal and what moving on should include.
After years of hiding in the shadows and protecting their secrets, Team Nikita let it all out. They talked about their recruitment, Division, the Shop, the scientific advancements, mind control, they let out everything! It had to be a relief to finally tell their stories, plus to know that would give them immunity and their freedom.
They thought it was over and that they would start a new life. Nikita went from number one enemy of the state to the nation's hero. She was a criminal, a secret operative, and now the most popular person in the country. A major shift. Michael was right when he told her that she needed to start seeing herself as he did.
The dynamic between Michael and Nikita was incredible. After all they've been through they found each other again. "No more missions. No more looking over our shoulders. And all I want is you." Aww! Swoon! In that moment, they has a sweet and loving future together. Is it still possible? Maybe, but not quite yet.
As they reconnected, a new couple was blooming. Sam proved his loyalty to Alex. He didn't try to steal the diamonds and instead followed through on what she wanted. And they hooked up! I was glad to see that Alex wasn't about to jump into something with him. She's right, he needs to figure out who he is. They have to get through the coming trouble first.
I'm glad that it was Ryan that didn't give up the investigation. He's always been the thinker of the team and able to piece together disparate information and find their correlations. The takedown of MDK was too easy. Ryan saw through the actions and correctly realized that Jones set it up to comply with Nikita's demands and effectively get her out of the picture.
I'm not sure the plan would have held its cover even if Ryan hadn't figured it out. Amanda's reckless and it's unlikely she would have remained in the background for long. Her quest for power and determination to control the doubles would have eventually put her fingerprints out there.
If Nikita season 4 was longer, I'm sure that would have played out. Instead, the story's on a fast track and Ryan figured it out. When he confronted Jones, I never saw his capture coming. They met in a secure facility! Jones' reach must be nearly limitless. Ryan was right about everything, but he too underestimated his enemy.
Ryan's a fighter. He wasn't going to let Amanda and the mysterious Group of 8 get away. His resilience was impressive and honorable. He was shot with men holding him and he still didn't give up. He fought! He was willing to die to make sure Nikita knew that something was wrong. 
"No more secrets!" and Ryan leaped out the window. When he landed on the car I thought he was goner, but he even fought through that in order to tell Nikita the truth. My heart broke for Ryan, but I was utterly crushed when Nikita showed up at the hospital and said, "He's my family."
He held out just long enough to make sure she knew that Amanda was alive. Even as he died, he apologized for being right. Ryan was hero. And with that missions weren't over for Nikita. She couldn't give it up. Nikita may have lied to protect the public, but she wasn't going to leave it alone.
"They don't get to win. Not like this." 
It's only fitting for Nikita and Alex to end this together. I've missed the two of them as partners. I hope Michael understands why Nikita had to do it this way. She didn't take off in the same way as before, instead this time it was to finish it so they could have a normal life.
So with only one episode of Nikita ever ... "It's time to finish what we started."
Odds and Ends
Michael has a last name! He has a LAST NAME! It's nice to know you Michael BISHOP!
As odd as the cul de sac was to see, the military trucks interrupting that peaceful scene was even more jarring.
Alex's takedown of the men at the club was kick-ass. She may be a rich, socialite, but she's still got it!
Amanda's manipulated at least some of the doubles to be under her control. Will she use them in the final battle against Nikita? Cheryl Dixon was shown for a reason.
Who are the other members of the group? Do we know any of them already?
Of course Amanda had to reveal her secret to Ryan. She needed the validation as always. Hasn't she learned by now?
Ryan's escape scene was brilliantly acted by Noah Bean. He sold it. I was devastating to watch, yet such the perfect ending for the character.
Are you devastated that Ryan died? Will the rest of Team Nikita get a happy ending? How do you want to see the series end?
Carla Day is a staff writer for TV Fanatic. Follow her on Twitter and on Google+.