Clearly, the gloves are off and everyone has grabbed a ticket to crazy town.
 The Good Wife Season 5 Episode 6 left me choosing no sides in the fight between Lockhart/Gardner and Florrick/Agos & Associates.
Both firms seemed to embody all the ugly we always hear as the butt of lawyer jokes and none of the upstanding heroics we've come to expect from The Good Wife. This is one group of dysfunctional people who are in need of some serious mediation.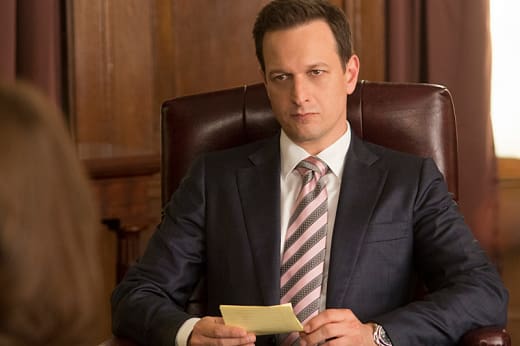 Was anybody impressed with the new Will? Let's just remove all of legal actions and look at his personal life. Will is flush in the middle of a mid-life crisis. He was experiencing the sudden loss of the two most important women in his life, or so he thought. Alicia betrayed him emotionally in more ways than one and Diane was leaving him alone at the firm they started.
So he picks up a blonde bimbo, starts making out like a teenager in the hallways of his office and gets tattoos? He's doing everything out of spite, arrogance, and perhaps a bit of despair. It's difficult to like the new Will.
While I think Diane got a really shoddy deal with her seat on the Supreme Court, it's also difficult to feel sorry for her when she would probably have done the same thing in Peter's position. She wished for Kurt to do wrong by their client, Heather, by not testifying for Alicia. I don't think Diane even saw in herself the same actions that were being done unto her when she questioned Kurt for his choice.
Kurt showed that he is, at this point, the most stand-up guy on the show. Out of all the firms and attorneys involved in the many cases that effected Heather's case, not one of them were truly looking out for her and her plight. They all wanted to win for their firm, to make money, to send someone to prison, to make a deal - everyone but Kurt. Kurt just wanted to prove that the gun was defective so that she could win her case. That's why he was hired.
It's my hope that Diane spending more time with the moralistic Kurt will help her with her interactions with Will at Lockhart/Gardner, because I have a feeling things are going to get a little out of control over there. They already have employees calling and asking to join Florrick/Agos, and we were again reminded that Kalinda is a free agent. Certainly that wasn't a coincidence.
As annoyed as I was with Marilyn, She had some great advice for Alicia - rein in Cary Agos. He's too willing to talk out of turn and it's going to get them in trouble. I also didn't like how Cary was confiding in and trusting the other Cary instead of siding with his partner when it came to critical decisions such as office space and perhaps teaming up with another firm of tax attorneys to broaden their spectrum and gain access to space.
Granted, Alicia wasn't thinking solely on behalf of the firm either, as she just wanted the associates away from Grace, but she had a lot more invested in the matter than Cary did - more money and her personal space. Was Cary unable to see the other Cary spending time with Grace? He had to know it was inappropriate, just like he felt it was when he started talking with Marilyn. 
Marilyn is going to have to learn not to act against Peter on every anonymous tip she receives with the understanding that there is a major disagreement going on between his wife and her previous firm. Peter needs to know what's happening, and if Marilyn is as great as she says she is, she will be able to keep him from reacting on behalf of his family. Her job shouldn't be to investigate tips and tell other firms how to be ethical, but to coach the Governor how behave ethically in his new position. 
Dirty tricks worked. The client who went to Florrick/Agos because she felt more comfortable with them as attorneys ended up back at Lockhart/Gardner after their game playing kept key files from Florrick/Agos. Nobody won. There were no real smiles or victories when the players went home at night because they had nothing to be proud of.
It's difficult to watch when characters you almost consider friends start scraping the floor with their behavior, but I'm betting they have a long way to fall before they hit rock bottom.
Will they learn to play nice again? Will they remember the respect they once shared for each other? It sure won't be boring while we wait to find out.
Carissa Pavlica is the managing editor and a staff writer for TV Fanatic. She's a member of the Critic's Choice Association, enjoys mentoring writers, cats, and passionately discussing the nuances of television and film. Follow her on Twitter and email her here at TV Fanatic.