Where to even begin?
First off if you haven't watched Sons of Anarchy Season 6 Episode 11 then you need to STOP reading right now. Massive Spoilers Ahead!
Okay. You've been warned.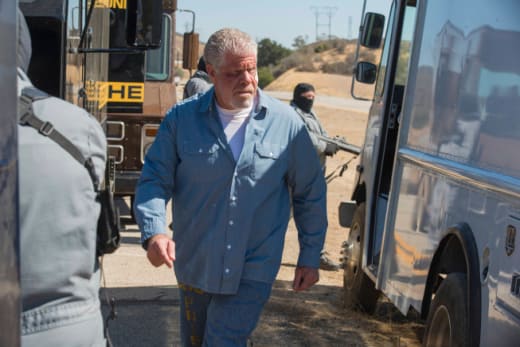 "Aon Rud Pearsanta" opened with SAMCRO preparing to break Clay out of his prison transport. The plan included four delivery trucks, even one in pink for Tig. That was one of the few smiles we'd get all night.
When the Officer started shooting back as they made their escape I remember wishing he'd just let them go. Now I bet he'd wish the same thing... if he were still alive. I wonder if Juice felt like he was wearing a white hat when he mowed the man down?
When the crew walked into the back room with the Irish, I flinched when they took out Galen O'Shea and his men. I really never saw it coming. At least not at that moment.
Then things really got weird…
Perhaps it was the setting. Inside the mostly empty hangar with its sterile white walls, everything felt cold. When Clay hugged Juice something felt horribly off, as though we were just waiting for the other shoe to drop.
And drop it did.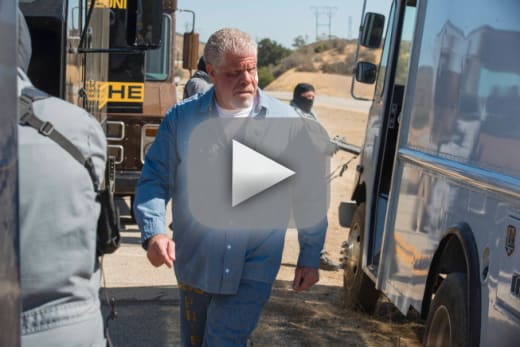 It was sad to see Clay completely resigned to his fate. All he had to hear was that they'd held a vote, and it was unanimous. Because this was the code that he lived by and was now about to die by.
Having Tara, Gemma and Nero look on from the window was nothing short of chilling. And Clay's sad, longing look at Gemma just before he took a bullet to the throat almost made me feel sympathy for him…almost.
If anyone needed a reminder that Jax Teller is a cold blooded killer, they only needed to look in his eyes when he killed his step-father. There wasn't a hint of hesitation or remorse in his gaze.
Not that Clay deserved it. Tara ran down Clay's most recent crimes for Nero. Clay had killed Piney and then tried to kill Tara to cover up his role in John Teller's death. Tara certainly didn't mince words when she explained to Nero how she felt in this Sons of Anarchy quote…


Clay Morrow should have been dead a long time ago.

Tara
For most of this season I'd been thinking that Clay's death was overdue. With all of the tragic, grisly and shocking murders on this show, I couldn't figure out how
Sons of Anarchy
could off this pivotal character and make it memorable.
In the end, it was the quiet calculation by all of SAMCRO that assured I'd never forget the execution of Clay Morrow. Remind me never to doubt Kurt Sutter and company again.
Clay's death was only part of the story. Tara's life was in a complete state of limbo. Jax still had her under surveillance and when Bobby was shot, he called for her help and I absolutely loved her reaction…


So what, we just pretend nothing happened and I'm mob doctor again?

Tara
That was the reality. In that moment, all was put aside if she would save Bobby, but how long will that last?
Tara obviously saw the lengths that Jax was willing to go to make permanent changes in SAMCRO. As much as she wanted Clay dead, was she truly OK with his murder?
When Patterson put a deal back on the table, it appeared Tara was grabbing for it with both hands.
It would have been so much easier on her if Jax hadn't been so understanding. When he told her he was sorry that being with him took her to such a dark place, it really was heartbreaking for both of them. But Tara's running out of options. Will she take that bullet and send her SAMCRO family to prison to save herself and her boys or will she come up with another plan?
On the flip side, I appreciated Unser's honestly with Gemma. She has this fantasy in her head about how Tara will disappear and she'll have a second chance raising Jax's boys. Unser made her face reality.
This isn't 1967 anymore, sweetheart. This life, it ain't romantic or free. There's no path to anything that makes any sense. It's just dirty and sad and we both know it's only going to get worse.

Unser
As Gemma and Nero sat in bed reading to Abel I was struck by how sad it would be if she never got to see her grand babies again. And once again Nero's Zen pimp daddy persona won me over. He loves Gemma. He's great with the kids but he's no fool.


No offense, mamma. I've seen what happens to your husbands. It ain't pretty.

Nero
So with Clay dead and Jax trying to bury the past, will Tara change her mind? As she stood there holding that bloody bullet it was anyone's guess what was running through her mind but one things for certain.
She's in for a very long, dark night.
C. Orlando is a TV Fanatic Staff Writer. Follow her on Twitter.