Sleepy Hollow Review: Ancestors and Descendants

Carissa Pavlica at . Updated at .
While it wasn't a traditional Thanksgiving episode, Sleepy Hollow Season 1 Episode 9 was most definitely about family. 
Viewers had the opportunity to discover some things we didn't know about characters, who themselves were enlightened about their own family ties in ways that would be both life affirming and life-altering.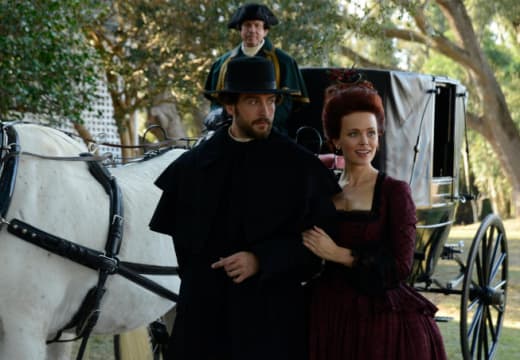 There wasn't a lot of time for Ichabod's cleverness, as he was overcome with the memories of friends and family as Abbie appealed to him to spend the American Thanksgiving holiday with her and Jenny. Holidays can be the worst time to be alone, even around people who care for you, and Ichabod was feeling the feels.
He did manage to point out that McDonalds had little to do with it's Scottish nomenclature, which I found amusing as I had never thought of Scots, but always of Old McDonald and his farm. When Icabod is around, he always sees things in a new light.
Jenny was preparing a Thanksgiving meal and even asked Capt. Irving to attend, and that's when we discovered he had moved to Sleepy Hollow because it would be better environment in which to help raise his daughter, Macy, with whom he shares custody with his ex-wife.
She apparently had some sort of an accident is in a wheel chair. It's funny to think about how easy it once was to attribute his silence and dour attitude as a possible bad-guy qualities, when he was really just dealing with issues that were very deep.
Meanwhile, a billionaire had gone missing and as Ichabod and Abbie went to investigate, he discovered that it was a house he knew well as he and Katrina had spent time at a sanctuary there when they were married. It ended up as a traditional haunted house story, and one in which a ghostly apparition showed Abbie much of what went down in the house and then helped lead them all to freedom.
What the ghost showed Abbie was beyond Ichabod's wildest dreams. He was a father. It must have been after he had died, and Katrina went to that house, which was protected by a hex to ensure her and the baby's safety, to give birth in Ichabod's absence. Demons sent by Moloch outwitted the warlock, but the living version of the apparition Abbie saw was able to get them out of the house safely.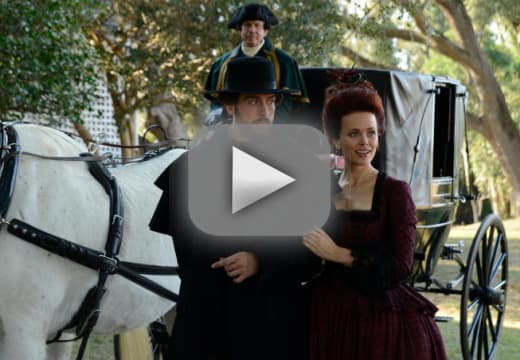 So, assuming that Ichabod's son continued the family line, he has some version of grandchildren - likely somewhere nearby to Sleepy Hollow. That news is going to be a driving force behind all of his actions going forward. How could they not be? The next time either he or Abbie encounters Katrina they will ask, but I'm sure Ichabod will be wondering how she could have kept such enormous news from him. 
After witnessing what she did, Abbie looked into her own ancestry and discovered the ghost that helped her at the house was a direct ancestor, and she was also the woman who helped Katrina deliver Ichabod's son into the world. Ichabod comments that their paths have been entwined for much longer than they realized.
I liked that Abbie took away from it all that perhaps the idea behind holidays like Thanksgiving is to reflect and appreciate what you have before you. Through their trials they are discovering so much more than anticipated. Even if it might start with pain, there are beautiful secrets being revealed if they just take the time to see them.
Carissa Pavlica is the managing editor and a staff writer and critic for TV Fanatic. She's a member of the Critic's Choice Association, enjoys mentoring writers, conversing with cats, and passionately discussing the nuances of television and film with anyone who will listen. Follow her on Twitter and email her here at TV Fanatic.