So much death and darkness afoot in Reign Season 1 Episode 6!
Did I put on Game of Thrones by accident?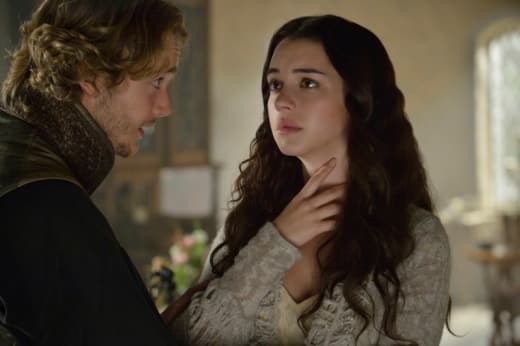 Okay, no, the deaths on tonight's installment wouldn't have turned many heads on that other show about royals, lust, bloodlust and cool hair.
But the body count - four dead, and all of them via gruesome murder - was a bit of a shock and a tonal shift for this one, with blithe Kenna's subplot the only bit of fun in this otherwise grim hour. I mean, did you ever think you'd witness a fairly graphic stake-burning on The CW?
But it wasn't a change for the worse; if anything, if was an affirmation of Reign's strengths. The show does gossipy soap very well, but it does dark action-drama competently, meaning that there's the potential to throw a lot of different elements in the mix to ensure that the series doesn't get stuck in any ruts.
Going through a dry plot patch while waiting for the next big political intrigue or sex scandal? Throw in some evil druids while we wait! The perfect solution!
True, this episode had less room for the rollicking chemistry between the leads, or Mary and the Ladies, and thus less fiery back-and-forths and fewer notable Reign quotes. That did drag it a bit for me, but just a bit - this show remains an expertly crafted historical soap.
While Mary herself took a backseat this week, Queen Catherine finally stepped into the spotlight, with a great evil queen presence that was somewhere between Maleficent and Joan Collins. She kicked the camp factor up a notch, and it was quite welcome; I was starting to worry that the people on this drama were behaving like normal-ish human beings.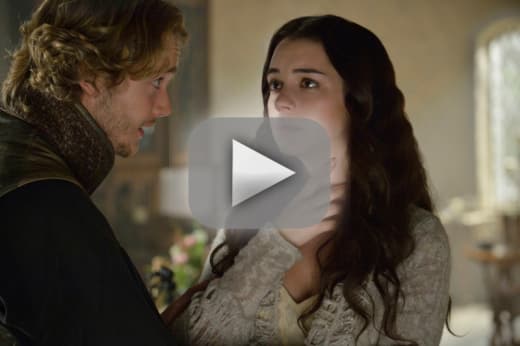 Bash's second murder (that was a murder, right?) came out of left field for me. I suppose we don't actually know enough about Bash to be shocked by his pushing that thief into a ravine, but I guess I'm just generally shocked when someone pushes a thief into a ravine (unless there's, you know, a very strong precedent).
But it did raise the tantalizing idea that we don't actually know this guy at all...and that Mary may be mixing it up with a guy who has worse problems than just not being able to be king. Which is, you know, pretty bad for Mary, but great for us!
If you've already made it this far into the review, you don't need to hear me sing the praises of this show - but I'm going to praise it again. This is one of my favorites of the new season, and a really stand-out example of how to craft a great soap: to create high stakes, but also never take yourselves too seriously. Reign's capacity for lightness and fun - without going overboard into silliness or mockery - is what makes it such a joy to watch.
Official Reign FashionWatch: 10/10! That fur shrug Kenna was wearing was killing me, as was Mary's white cloak. In fact, all of the cloaks were pretty danged sweet. I have truly not felt this degree of televisual fashion lust since Gossip Girl Season 1.
Was Bash justified, or is he secretly psycho? Is Kenna going to find out about Diana? Do you think I could wear a fur shrug to work if I paired it with a pantsuit?