For an hour that started off a bit slowly, Reign Season 1 Episode 3 certainly picked up a lot of speed - and ended up in a place that I couldn't have anticipated.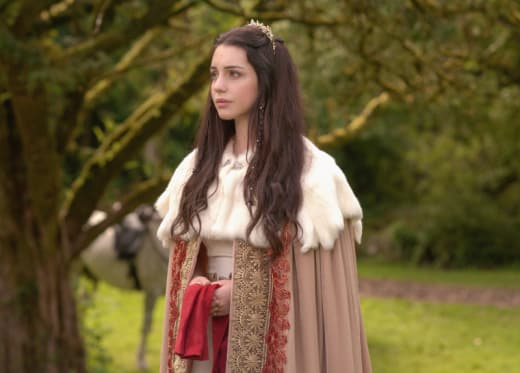 The first half of the show seemed to point to typical early-first-season doldrums, the phenomenon where you've introduced all the main characters and their conflicts, and just kind of have them bump around each other for a bit, establishing their personalities and taking on not-particularly-fascinating plot points (land politics! crushes on dorky Portuguese royals!) until you can move back into the action.
But the second half featured some pretty heavy, fast-moving (and thoroughly absorbing) action. Bash getting seriously wounded? Mary actually accepting that dork Tomas's proposal? Everything's falling apart! Why didn't we all listen to Sexy Nostradamus when we had the chance?!
Speaking of Tomas: Tomas, Tomas, oh Tomas. How do you solve a problem like Tomas? You just sweep in here, lambada Mary around the dance floor like you own the place, and suddenly she's marrying you, Tomas, even though you remind me of nothing so much as Raoul Julia as Gomez Addams.
While I'm clearly not enamored with Tomas, his proposal kicked an exciting kink into Reign Season 1, and sped what had seemed like a slow episode into high gear. Francis's negotiations with Henry to get troops dispatched to Scotland were a lot more thrilling than they had any right to be, and it was certainly nice to see Bash (my favored royal brother) come out from whatever royal cavern they've been hiding him in for most of the episode, even if it was only for a few minutes (and even if it did end with him profoundly stabbed).
King Henry also came into his own as a character in this episode, stepping out of the generic "lusty, slightly amoral king" role he'd held in the first two installments and revealing himself to be a bit of a tart-tongued bon vivant (as this week's Reign quotes show). I definitely liked it, even if I definitely don't like him.
Speaking of people who don't like King Henry right now: though she has a small part each week, I am always gripped by the charisma of Caitlin Stasey, the actress who plays Kenna, the lady-in-waiting/past and possibly future illicit lover of King Henry, every time she appears on screen.
And this week was no different. She jumps out of the lady-in-waiting pack (and I love the entire lady-in-waiting pack!), and often seems to have a stronger screen presence than Mary herself. Here's to hoping for a spin-off for her (The Kenna Diaries?).
Though I was disappointed not to see any input from my favorite bag-wearing maybe-ghost this week, there was still plenty to love - I prepared to grit my teeth through the whole thing when I saw that it was an episode about land rights, and I was very, very pleasantly surprised.
Anyway, can't wait to see how they kill off Tomas next week. Wait, was it poor form to actually say that out loud? I meant, can't wait to see what happens with Tomas next week!
And, last but certainly not least: for this week's Reign FashionWatch, I give it a 10 out of 10. Those little seed pearls in the braids are killing me, and I fully look forward to seeing all these dresses in the spring 2014 Free People catalog.
How will Mary's engagement to Tomas play out? Will Francis figure out how to step up his game and win her back? Will every episode from here on open with a ladies-in-waiting kiss status report?